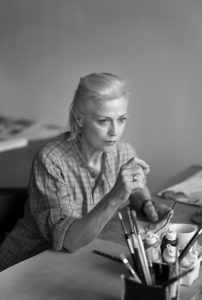 born in 1939 in Geneva, Switzerland. She studied Modern Literature, Philosophy and Fine Arts in Geneva and London and was at last employed as director/curator at the Swiss Institut in New York.
'Stretching time and space to convey something immeasurable and subverting reality to unmask the poetical behind the ordinary, often using architectural structures to that end.'

Education
BA (Hons.) in Fine Arts at The BYAM SHAW School of Art, London.
PhD. (All but Dissertation), Graduate Institut of International Studies, Geneva.
Degree in Modern Literature at the University of Geneva.
Artistic Experience
Audit classes
New York Studio School: Marathon Drawing Seminar under the aegis of English born artist Graham Nickson.
School of Visual Arts, New York:Courses in Wooden Sculpture and in History of Architecture.Summer Classes in Printing Making, in Painting,  in Drawing.Summer Studio Residency for Painting.
New York University and "Film Video Arts School":Film and Video classes.
New York School for Social Research:Courses in Art History and Philosophy.
Many Seminars at Tate Britain & Tate Modern, London.
Residencies
2007 Artist in Residence at the Emily Harvey Fundation, Venice.She created an artist book with etchings and poems.
Professional Experience
1990 – 1992 Director/Curator of the Swiss Institut in New York (a cultural space showcasing art exhibition, music & dance performances, talks, videos & documentary films)  sponsored by the Swiss Council for the Arts Pro Helvetia  and by the Swiss Confederation.
1987 – 1989 Assistant to the Director of the Swiss Institut in New York, then Public Relations Co-ordinator.
1978 – 1985 Manager for the offices of a  "modern art" dealer in Geneva, who was a member of the Selection Committee for the Chicago International Art Fair.
1969 –1973 Assistant to the Director of I.R.M. (International Research & Marketing), the public relations office of the J.E.T.R.O. (Japanese External Trade Organisation) in Paris.
Memberships and Participation
Trustee on the Board of the Swiss Cultural Fund in Britain  founded by the Embassy of Switzerland, London.
Trustee on the Board of The Fondation Braillard Architectes, Geneva.
Architectural Association, London.
Contemporary Art Society, London.
Institute of Contemporary Art  – I.C.A., London.
Royal Academy of Art  – R.A.A., London.
Tate Gallery, London.
Victoria & Albert Museum, London.
Royal Court Theatre, London.
Ass. des Amis du Musée d'Art Moderne et Contemporain  A.M.A.M.C.O., Geneva.
International Center for Photography  – I.C.P., New York.
Current Endeavours
Collaborating with an architect on the renovation of a 19th century artist's studio in London to pursue my artistic practice.