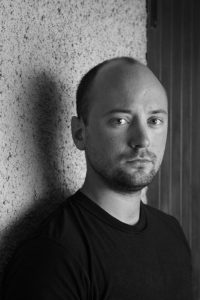 lives and work in Paris. He is graduated from the Fine art school of Paris since 2010. He is actually working about "studio landscapes", built as the result of an addition of pictoral, theorical and technicals rules. His landscapes paintings are not representation of existing landscape but codified representations of a certain idea of landscape picture. They are neither the copy or the model, but are presented to see as one of thepossible variations of a landscape's painting under a charter drawn up in advance. he is also working on argumentative prints, wich are usefull to reveals both the buiding tools and the result of his questioning. The artist question are both the théories of Nature rationalization such as its geometrization by the Gold Number or perspective system, but also the big symbolic clichés in the pictorial representation of landscape's history. In fact, the real nature of his paintings are illustrate and confirm our conviction that the subject questioned is more figurative representation, or representation itself, than the general idea of Nature.
Formation
2012 member of the workshop between Fine art school of Paris and the Normal Superior school of Paris.
2011 residence in "Le CENTQUATRE", paris.
2009 student in the Universität der Kunst of Berlin.
2005/10 student of the fine Arts School of Paris
Exhibitions and Prices (selection)
2012 Collective exhibition of the workshop between Fine Art School of Paris and the Normal Superior School of Paris named "slice of square on slice of circle ", at the royal Saline of Arc et Senans
2011 Collective exhibition " länder: polysemie of the Landscape", Fine Art school of Rennes, october 2011.
Price Verdaguer of painting of the Art French Académie.
Collective exhibition " tire toi une bûche ", at the General manufacture of Sevres.
2010 Collectives exhibitions from september to december during residency at " le CENTQUATRE".
Graduation exhibition in the Fine Art School of Paris, june 2010.
Contact
www.edouardwolton.com