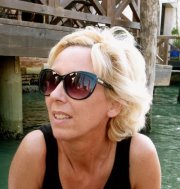 lives and works in The Netherlands. After a master at VU University Amsterdam she started her career as Developmental Psychologist. She made a switch to Arts and graduated in 2000 at the NAU, New Academy Utrecht. In 2009 she attended residencies Artoll in Germany and Hudsonriver400 nearby New York. Before that, Künstlerhaus Ziegelhütte Darmstadt had invited her for a working period.
Solo Exhibitions
2010 Wandering, CC De Boogaard, St Truiden, Belgium
2009 This is a love Song, Phoenicia, VS
2009 What's under your pillow, Wilms Gallery (New Untitled), Venlo
2008 Blooming, Bergen
2006 TNO, The Hague
Group Exhibitions (selection)
2012 Pavilion Rotterdam
2011 Iris Cornelis Gallery, Rotterdam
2011 Cultura, Ede
2011 Window Project, Amsterdam
2009 Urban Nature, RINO, Utrecht
2009 MuroffKotler Visual Arts Gallery, SUNY Ulster, U.S.A.
2008 Kunst-&Koningsduin, Bakkum
2008 BetrekkelijkRustig,OudRekem, Belgium
Contact
info@maritdik.nl
www.maritdik.nl