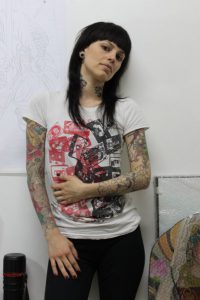 "I was born in Contagem, a small city in Minas Gerais, Brazil. My family work as missionaries in the region. Due to my lack of resources to finance my studies, I began working as a Tattoo Artist 14 years ago, a professional carrier that allowed me to pursue and support my carrier as a Fine Artist. I moved to Sao Paulo to study Art in 2004, and in 2009 moved to the USA. For the past four years I have been dedicating my life to the study of painting techniques in a figurative and representational form sense. Primarily I started my studies at the Los Angeles Academy of Figurative Art, California, where I was awarded a scholarship for the Undergraduate program. My intentions was to explore many of the traditional and modern methods, which helped me gain skills and confidence to enter to a masters program. My goal is to develop technical skills as painter while simultaneously developing the conceptual basis for my work. Although working in a representational vain, I hope to engage in contemporary dialog, in a manner that is relevant in this Post-Modern epoch of Art History. The opportunity of being in the Leipzig residency will be a time to evaluate the journey of my first academic year of the Masters Program at NYAA (New York Academy of Art), work on new pieces based on the concept I intent to explore. At the same time enjoying and experiencing a cultural atmosphere that the city and the occasion have to offer."
Education
2007-2009 Mixed midi focus on Acrylic painting and Drawing Apprenticeship at Shunkun, with Sensei Kaoru Ito in Sao Paulo/Brazil.
2009-2012 LAAFA (Los Angeles Academy of figurative art), incomplete Bachelors' program.
2009 3 months Apprenticeship of Old Masters painting technique at Adrian Gotlieb studio, Los Angeles/CA.
2012 9months Apprenticeship with focus on Painting and Drawing at Richard Morris studio in Van Nuys/CA.
2014 First year of MFA at NYAA (New York Academy of Figurative Art)
Exibitions
2005 Painting Exposition hope factory- London/UK
1st london Tattoo Convention-London/UK
2007 Finalist of 21o Salão de Belas Artes de Pinheiros Sao Paulo/Brasil.
21o Exhibition of the Salão de Belas Artes de Pinheiros Sao paulo/Brazil.
Group Exhibition at Escola de Belas Artes in Sao Paulo/Brazil.
Painting Exposition El Disturbio- SP/ Brazil
2008 12 Led's Tattoo Convention photography exposition
Painting Exposition Black Dragon Tattoo Expo- SP/Brazil
Art Exposition Faculdade de Belas Artes Arigato Brasil – Ukiyo-e project photography- SP/Brazil
2009 Gallery Show Shunkun Cursos e Artes-SP/Brazil
Illustration for "Expo Bic 2" book
Led's Gallery show
2010 1st london Convention painting show
2011 "I want to be the next Group" exhibition at Wonderland LA Los Angles/CA.
2012 "100 Skulls" Group exhibition at Wonderland LA Los Angeles/ California.
Group show at Sullen Collective gallery Orange County/California.
Curation and exhibitor "Skin and Ink" at Cafaam ( Crafts and Folk art Museum).
2013 'Inked up' tour exhibition sponsored by Rock Star Energy Drink around 12 states in American.
Lectures, publications , films, scholarship honors.
1997-1999 1,2,3,4 and 5 edition of children's book, Sorriso editor, Minas Gerais /Brazil
2001 1st Minas Gerais Tattoo convention
5th Led's tattoo convention expositor
2002 Portal tattoo interview.
2004 Galeria Shock Cultural- Painting Exposition- SP/ Brazil
2008 Metro newspaper "Exposição explora Influência do Japão no design", Ukiyo-e Photography exposition
21 Salao de Pintura de Pinheiros- SP/Brazil honorable mention/painting competition
MTV Brazil Interview, "Woman tattoo artist in Brazil"
Debate MTV Brazil "O Underground saiu do Underground?"
Bons Fluidos interview Fina Estampa
12 led's Tattoo Convention expositor
Illustration for Costume design and entertainment industry Los Angeles/CA.
Interview at "Arte e Comportmento" magazine
Vip Magazine editorial and interview
Sao Paulo Fashion week/Fall, body painting art
2009 Ink and Iron Tattoo Convention expositor- Los Angeles/CA
Citation at the" tattoo your soul" book -Sao Paulo/Brazil- writhed by Marcelo Galega
Made in Japan magazine Interview
Clix Magazine Interview: "Fera" entrevista visual
Good Moments Tattoo exposition expositor
Good moments painting exposition
Guia da semana Interview, "A Alma através da tattoo"
Editor of "Guia da Semana" editorial
Editor for Tattoo "Arte e Comportamento" , Horitaka; The biggest representative of Japanese Tattooing in West Coast of US
Featured at Estado de Minas- News Paper
Almanaque digital Interview
Outro Estilo – Interview
2010 Featured Tattoo Energy
Featured at Tattoo Life Magazine -Europe
Omenelick segundo Ato interview "Mitos e Verdades"
Keep a Breast foundation donate sculpture art work for an auction
Creation of T-Shirts Design for Original Urban Style
Featured Tattoo Tribal Special
work as editor for an editorial of "Tattoo Arte e Comportamento " : Mike Hunbendal
$5000 Schoolarship- Undergrad program at LAAFA (Los Angeles Academy of figurative art)
2012 Lecture on Drawing and Tonal techniques at Wonderland Gallery LA – Los Angeles/ CA
2014 $13500 Scholarship- MFA at NYAA (New york Academy of Art)
Experience
2004 Evil from the Needle tattoo shop- London/UK
2005- New Wave Tattoo -London/UK
2003/2004 More core division illustration-Clothing Campaign
2005- 2007 Work at tattoo you from one of the most renewed and traditional tattoo shop in brazil open since 1969
2007-2009 Owned my on Studio in Brazil.
2009 High Voltage Tattoo – Los Angeles/CA
2011 Owner, Art Director, executive manager at Original Urban Style Ltda.
2012 Curator of "Skin and Ink" show at CAFAM (Crafts and folk art museum), Los Angeles/CA
2013 Kings Avenue – New York /NY
Guest spot artist at Capture Tattoo – OC/CA
2014 Sacred Tattoo – New York / NY
Contact
www.camilarochaart.com
contato.camilarocha@gmail.com