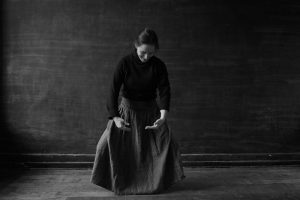 Chilean artist, Catalina Bauer was born in Buenos Aires, Argentina in September of 1976. She studied Fine Arts in the Universidad Finis Terrae in Santiago, Chile and obtaining a bachelor´s degree after which she attended the Universidad de Chile pursuing a master in Fine Art. Catalina Bauer lives and work in Santiago de Chile, since 2009 she has developed with four other chilean artists Taller BLOC, an artist-run space that has a very successful Tutorial Program. Bauer has also participated in many national and international projects and exhibitions, such as; "Techtonic Shift, Contemporary Art from Chile, from The Juan Yarur Collection"; Phillips de Pury &Company, Howick Place, London, U.K.. "Rewriting world", IV Biennale of Contemporary Art in Moscow, Moscow, Russia, "Material Ligero", an itinerant project of exchange with the BLOC group: Margarette Lawrence Gallery, Melbourne, Australia in 2009 and AMA Museum, Washington DC, USA in 2011, "While is possible", House of the Americas, Madrid, Spain in 2010. In 2007 Bauer won a state scholarship that allowed her to do a three month residency at the Anthropology Museum of Xalapa in Mexico. She has also participated in an Artist Residency at Gasworks, London in 2011, and in 2012 she was invited to develop a project with the Participation Programme of the same institution.
In my work I make reference to certain common life aspects of our daily-life routine and occupations; house, work, education and the care and effort that it all implies; these are my constant preoccupations as well as the initial resource of my production. To set my gaze in almost insignificant details, has been the way to orient my work in these past years.
I am interested in different disciplines and techniques, but I recognize that weaving is always implicit in my work. I conjugate two factors primarily: On the one hand, the discovery of a specific material, charged not only with sensory appeal that makes it attractive, but also of a determined function; and, on the other hand, manual labor. Direct manipulation- most often painstaking, yet not technological- is the medium through which, I try to transform a particular material or object, granting it thus a new (artistic) meaning.
I incorporate natural elements, such as plants, water and staple foods, which contribute a notion of temporality, life and potential change in my work. These I generally combine with objects of industrial production –somewhat mundane-, that render evident an economy available to anyone. Precarious merchandise is the necessary resource to establish tensions, with a series of extremely delicate and laborious gestures. In a certain way, the subject is a relationship of resistances, of finding an exact mid-point between strength and frailty.
Collaborative projects have became one of my main interests lately, the experience of working with other people when I needed help in the production of a bigger scale pieces was so powerful, that the process became part of the work and its sense.
(Catalina Bauer, February, 2014)
Bauer's stay is funded by