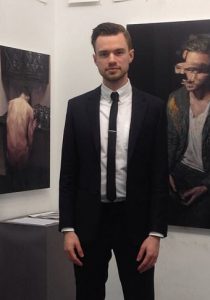 Canadian artist Adam Lupton's gaze explores psychological and sociological struggles in contemporary society. Blurring lines between realism and expressionism helps Lupton probe the internal and external dialogue faced in his multi-directional narratives. Adam Lupton holds his Bachelors of Communication Design from Emily Carr University or Art and Design, having graduated in 2010, and is currently enrolled at The New York Academy of Art for his Master of Fine Arts.
Positive Negative Gallery – February 2012 – July 2014
Owner & Gallerist
Start up gallery in the heart of Vancouver's Chinatown, responsible for curation, design, organization, and promotion of monthly exhibits.
Freelance Designer – January 2011 – July 2014
Designer
Responsible for contracting with clients on web-, branding-, and print- based projects from the succession of briefs through ideation to completion. Oversaw teams of up to five with budgets of $20,000.
_verse&theory – January 2011 – July 2014
Owner
Independently established and developed, a custom silk screened and designer t-shirt company for exclusive sales and contract orders.
House Guest Supper Club – August 2011 – June 2013
Creative Director
Responsible for branding, conceptualizing, and implementing interior and graphic design works.
Education
New York Academy of Art – 2016
Set to graduate with Masters in Fine Art in 2016.
Emily Carr University of Art and Design – 2010
Graduated with a Bachelors in Communication Design.
Community
Hiring Committee Member – December 2009 – February 2010
Emily Carr University of Art and Design
Select student member among the Emily Carr University Hiring Committee for screening and interviewing of new Design faculty.