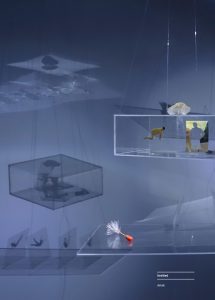 IT COULD ALWAYS BE OTHERWISE – JOSEPHINE HELLEN FRANKLYN
Opening: Thursday | 4 May | 6-8pm
The exhibition will be open until 2 June 2016
Location: Australian Embassy Berlin | Wallstr. 76-79 | 10179 Berlin (U2, Märkisches Museum)
Josephine Hellen Franklyn received the first award by the Royal Melbourne Institute of Technology University to pass a three months residency at LIA-Leipzig International Art Programme 2017 in conjunction with a solo exhibition at the Australian Embassy in Berlin.
Her installations generate minimal narratives between sculptural found objects and the botanical, as well as objects from daily life such as magazine cut outs and in situ recordings. She is triggered with the question how we measure and understand things that have left their comfort zone, their familiar background, origin or context.
Josephine re-contextualizes her objects and sheds a new light on them, inviting the viewer to consider the relationships and narratives between the individual parts of her installations and to reflect on how these narratives relate to broader social conditions.
Click here to view Josephine Hellen Franklyn's synopsis