Term: August – October 2018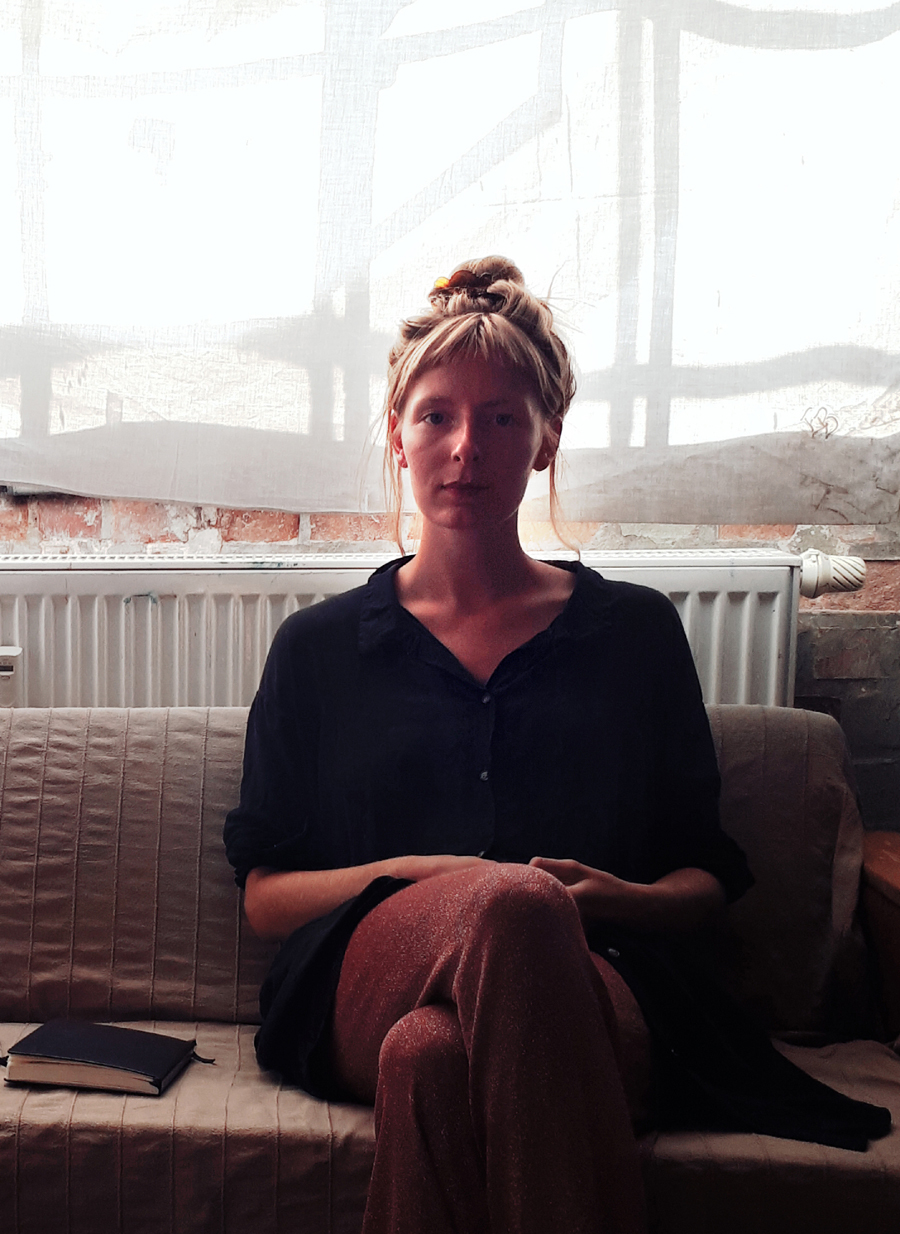 I work with weaving as an alchemical formula, a thought experiment and a ritual gesture. I am driven by a presence of great sensitivity and tactile sensibility. For me weaving is ambivalent, ambiguous, intense and serious.  Through the process I use different voices, mime them, translate them and repeat. Every step of weaving and its preparations are repetitive. For me the repetition is ritual, a hymn said over and over, which eventually is expanding beyond the weave and me.
The point of departure in my current project is in writings of artist Hilma af Klint in relation to ritual weaving in the form of séances. The history of the spinning factory plays an important part.  Through looking at western spiritual movements from a perspective of materialization, the weaving revolves around one main question of how the dichotomies of embodied experiences and immaterial divinities can be shifted.
Education
MA Fine Arts in Crafts, Academy of Design and Crafts, Gothenburg 2016-2018BA Fine Arts in Crafts with Specialization in Textile Art, Academy of Design and Crafts, Gothenburg 2013-2016
Exchange semester, Textile Design, The Royal Danish Academy of Fine Arts, Schools of Architecture, Design and Conservation, Copenhagen 2015
Residencies
Textílsetur Íslands, Blönduós, Iceland (Upcoming! January-February 2019)
Leipzig International Art Program, Leipzig (Upcoming! August-November 2018)
Takt Artist Residency, Berlin 2017
Guest Weaver at Kolding Design School, Denmark 2016
Other
Founder and member of Studio Mesh
I Sin Linda, participating in Birgitta Nordström's research 2016-
Workshop holder
Workshop in screenprinting, in collaboration with Designkanalen and Blå Stället during Open Week Design Festival, Gothenburg 2017
Exhibitions
(duo) A Guaranty of Sanity, with Rebecca Lindsmyr, Gapgap, Leipzig (Upcoming! October 2018)
6 Masters, Almgrens Sidenväveri och Museum, Stockholm 2018
HDK Exam Exhibition, Kajskjul 113 Frihamnen, Gothenburg 2018
Vårsolanche, Galleri Slätten, Malmö 2018
Another Space – Takt Air Berlin Autumn Group Show, Berlin 2017
Den förlorade materialiteten, Nääs Konsthantverk, Floda 2017
Skaraborgssalongen, Konstmuseet i Skövde 2017
Fruntimmer – ett sexigt samarbete, A Venue, Gothenburg 2016
HDK Examen, Vasagatan 33, Gothenburg 2016
The Overview Effect, A Venue, Gothenburg 2015
Textilepidemi, Konstepidemin, Gothenburg 2014
Grants
Karna Askers Fond/Göteborgs Slöjdförening 2018
Fabrikör J.L. Eklunds Hantverksstiftelse 2017
Helge Ax:son Johnsons Stiftelse 2017, 2018
Slöjdföreningens projektstipendium 2016, 2017
Petersenska Hemmets Stiftelse 2016
Adlerbertska stipendiefonden 2015, 2016
Utbildningsstiftelsens Hantverksstipendium 2014, 2016
Estrid Ericssons Stiftelse 2014, 2017, 2018
Memberships
Konstnärernas Riksorganisation (KRO)
Bildupphovsrätt i Sverige
Hanna Larsson's residency at LIA is supported by:
Estrid Ericsson Foundation, Helge Ax:son Johnson Foundation, The Hilma af Klint Foundation