Term: November 2019 – January 2020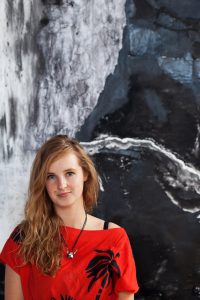 Curiosity is the key concept in Joyce Ter Weele's art. Joyce is curious about the practice of combining materials and techniques. Besides this, she arouses both her own and the viewer's curiosity about the meaning of her work. Joyce is always looking for something new. She does so by using different techniques in her studio. She follows these actions throughout her creative process. Our imagination is stimulated by figurative and abstract forms of which it is not clear how they relate to each other, demonstrated by a wide variety of shades and refined blue-black keys.
Photography plays an important role as well. Joyce incorporated many photographs that she personally took on her travels abroad into her collages and drawings. These almost unrecognizable images are all photos of places that have been abandoned by their former residents. The places have lost their function. Nature takes up space. But does this mean that these places also lose their meaning? Joyce does not explain how she wants us to interpret her work, therefore, we have to do it without any references, titles or notes. As spectators we are given free rein and this allows us to lose ourselves in the landscapes. This is exactly how Joyce relates herself to her work between her studio walls: shuffling, sliding, retrieving and wondering. The result is alienation: we cannot look at her work in a certain way and simply come to an obvious conclusion. She makes us doubt our own observations. Viewed from above, from the viewpoint of e.g. a buzzard, the black areas could be mountains or land, or even a river valley. But seen through a microscope, the form may represent minerals. Perhaps we see galaxies? Or something completely different?
Finally, Joyce's work provides an environment in which we must divert from our regular patterns. We often too quickly put on understanding. Sometimes it's perfectly fine not to understand everything. That unknown is more than necessary to expand our known framework. The philosopher Hegel warns us against what he calls "the calcified", the only thing we really should be afraid of. If we only want to see what we already know and ignore the unknown, we don't add anything to our thinking pattern and our personal experiences. In that case we will freeze, we will "calcify". Unfilled areas give calmness according to Joyce. Thus, she provides us with conditions for silence. Silence creates meaning; silence meaning more than just the absence of sounds; silence that arises when we do not engage in the aim of benefit and seek for the familiar.
Education
Minerva Art Academy Groningen 2011-2015
Selected exhibitions
2019 'Een goede start' Pastel Cafébar | Leipzig, Germany
2019 '5 jaar melklokaal!' Melklokaal | Heerenveen
2018 'Streams of Consciousness' Drawing Centre Diepenheim | Diepenheim
2018 'On Paper' Gallery Hoorn & Reniers | The Hague
2018 'TorenkamerEXPO Opium' Vondel CS | Amsterdam
2018 'Een Schop Onder De Ploeg' Groninger Forum | Groningen
2018 'Drawing estafette' Minerva | Groningen
2017 'Milkshake 3' Melklokaal | Heerenveen
2016 'Coba de Groot' Museum Martena | Franeker | Solo
2016 'Art the Hague' Gallery Vonkel | The Hague
2016 'Fragments' Groninger Forum | Groningen | Solo
2016 'Oh natuurlijk' CBK Groningen
2016 'Behind the visible' Gallery Vonkel | The Hague | Solo
2016 'Crowned' World Trade Center | The Hague
2015 'Art The Hague' Gallery Vonkel | The Hague
2015 'Simmersalon' Gallery BAS10 | Sneek
2015 'Lichting '15' Gallery Vonkel | The Hague
2015 'Hyper' Graduation show | Groningen
Commissioned
2018 | Zu Hause | Wir Sind Zu Hause
2018 | Mural Project #1 | Kunstplaza Schurer & DRP Bureau
Awards
2017 | Nomination STRABAG Art award international 2017 | Austria
2015 | 1st price 'Coba de Groot' Stipendium | The Netherlands
2015 | Nomination Academy price 'Klaas Dijkstra' | The Netherlands
Artistis residencies
2020 | GINDS | Amsterdam | The Netherlands (upcoming)
2019 | Leipzig International Art Programme | Die Spinnerei | Germany
2018 | De Torenkamer | Vondel CS Amsterdam | The Netherlands
2018 | Keep an eye Spacemakers | Gallery Pouloeuff | The Netherlands