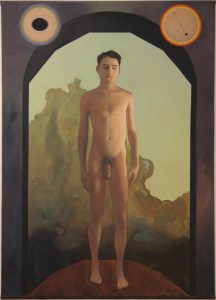 Term: February 2020 – July 2020
'The youngest of us now speak a language entirely of our own. We're carried separately, in a vehicle of a different kind. This vehicle moves throughout the land and water at speeds thought impossible. It reaches a different destination with each day. Inside, the spire of the world reduces to a collection of converging red points, thousands of them, glowing, hovering narrowly above one another.
An enormity amasses itself here, at this converging point.
Places of comfort, places of trauma, the most significant people and the most peripheral, the small prized possessions of childhood, the words and expressions that travel outward from conversation, the brick, the plastic, the cotton, the cold and hot water valves, the sensation of an inner self -the kind contained in one's tongue and teeth, one's head and hands. All of these collect into a single point.
The vehicle we are in is a precarious one. Its words are far too precise to be truthful, its worlds far too immediate to be real.'
A demon built this chariot for us.
The enormity stung me like a hot iron.
There's something here that I can't move beyond.
LEBENSLAUF
Bildung
B​ FA​-​ Visual & Critical Studies, School of Visual Arts, NYC (2019)
Ausstellungen
2​ 019​ I Love God ​School Of Visual Arts​ ​NYC, NY, USA
2​ 019​ Make it Look Like an Accident V​ isual & Critical Studies​ ​NYC, NY, USA
2019​ Impulsus​ S​ chool Of Visual Arts​ ​NYC, NY, USA
2019 E​ xplore Mode T​ he ArtHoe Collective x The North Face​ N​ YC, NY, USA
2​ 018 ​BUBBLEWRAP V​ isual & Critical Studies​ ​NYC, NY, USA
2017 X​ I XVII ​Spazio40 Galleria​ ​Rome, Italy
2016 S​ VA's Freshmen Open Studios​ ​School of Visual Arts​ ​NYC, NY, USA
2​015 ​National Scholastic Art & Writing Awards​ ​Artpace​ S​ an Antonio, TX, USA 2015 N​ ortheast School of the Arts Senior Exhibition​ ​Blue Star Contemporary​ ​San Antonio, TX, USA
Auszeichnungen & Residenzen
2​ 020​ ​Leipzig International Artists Residency-​ Spinnerei- Leipzig, Germany
2017 S​ VA in Rome Residency Award-​ Visual & Critical Studies
2​ 015 ​National Hispanic Scholar-​ National Merit Scholarship Program
​2​ 014 ​Maryland Institute College of Art Pre-College Residency Award-​ Alliance Summer Arts Program
Publikationen
2019 T​ he Visual Opinion 2018 T​ he Visual Opinion