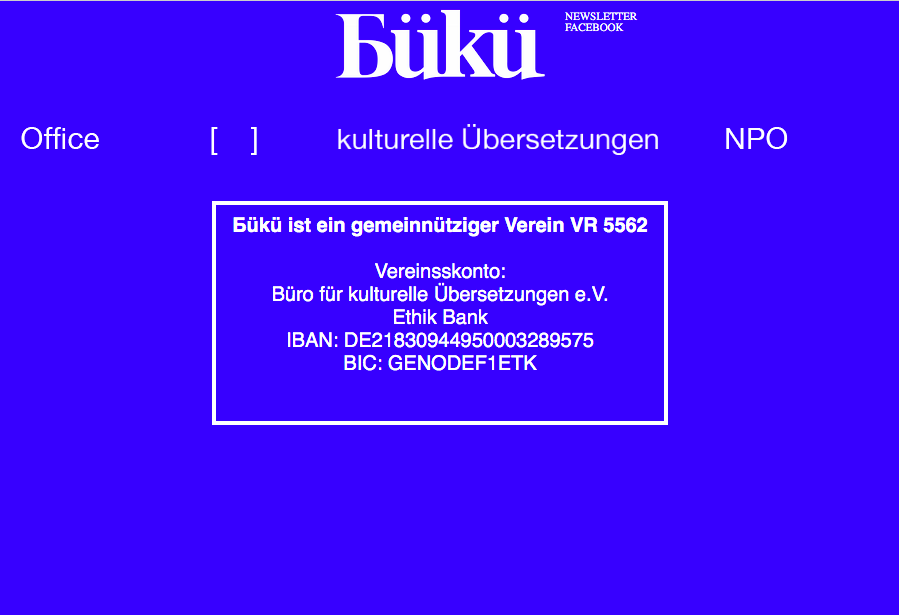 Together with other cultural institutions in Leipzig and the surrounding area, we started the initiative "LISTOK – Leipzig Initiative for Solidarity and Open Culture" [9]. It is a network of creative people in Leipzig (institutions, artists, filmmakers, musicians, composers, writers, curators, art scholars, designers) that aims to open up spaces and immediate help for international colleagues in exile who are trying to escape war and/or repression. The first arrivals (most of them women with and without children) have already been accommodated privately and more are expected.
Now we are collecting donations on the platform Betterplace [10] to
provide emergency help for refugee art and cultural workers in Leipzig.
Please note that your donation will be received by a private person and
is legally a donation. This is the only way we can ensure direct and
immediate help.
Alternatively, you can donate directly to the association Бükü –
Büro für kulturelle Übersetzungen e.V. [11] (Bureau for cultural
translations) with purpose "Spende Ukraine".
Büro für kulturelle Übersetzungen e.V.
EthikBank
IBAN: DE21830944950003289575
BIC: GENODEF1ETK
Email Adresse für Anfragen: opencultureleipzig@gmail.com
https://buekue.eu/www.betterplace.mewww.facebook.com/buereauforculturaltranslations
✭ If you know persons at risk, please inform them about this
initiative.
✭ CHARITY CONCERT! ✭ 22/03/18 ✭ 7:30pm ✭ NICOLAI CHIRCH ✭
LEIPZIG