Artists
Farnaz Dadfar (Iran/Australia)
Hannah Neckel (Austria)
Lee Paje (The Philippines)
Natalie Paneng (South Africa)
Oupa Sibeko (South Africa)
Yim Yen Sum (Malaysia)
Guest Artists
Max Kornfield (US)
Yulia Hriadovkina (Ukraine)
Kateryna Myroniuk (Ukraine)
Helen Topolyan (Ukraine)
Saturday 14th
11 AM: Doors open
1 PM: Performance by Oupa Sibeko at Vlado & Maria Ondrej – Atelier für Radierung
2 PM: Official opening with Bronwyn Lace (Director of the Center of the Less Good Idea, Johannesburg and Jens Wagner ( Deputy Head of Division and Media Relations Sub-Saharan Africa, Asia, Australia/Pacific, Latin America/Caribbean Culture Foreign Office)
3:30 PM: Performance – Die Decke aufbewahren by Oupa Sibeko
7 PM: End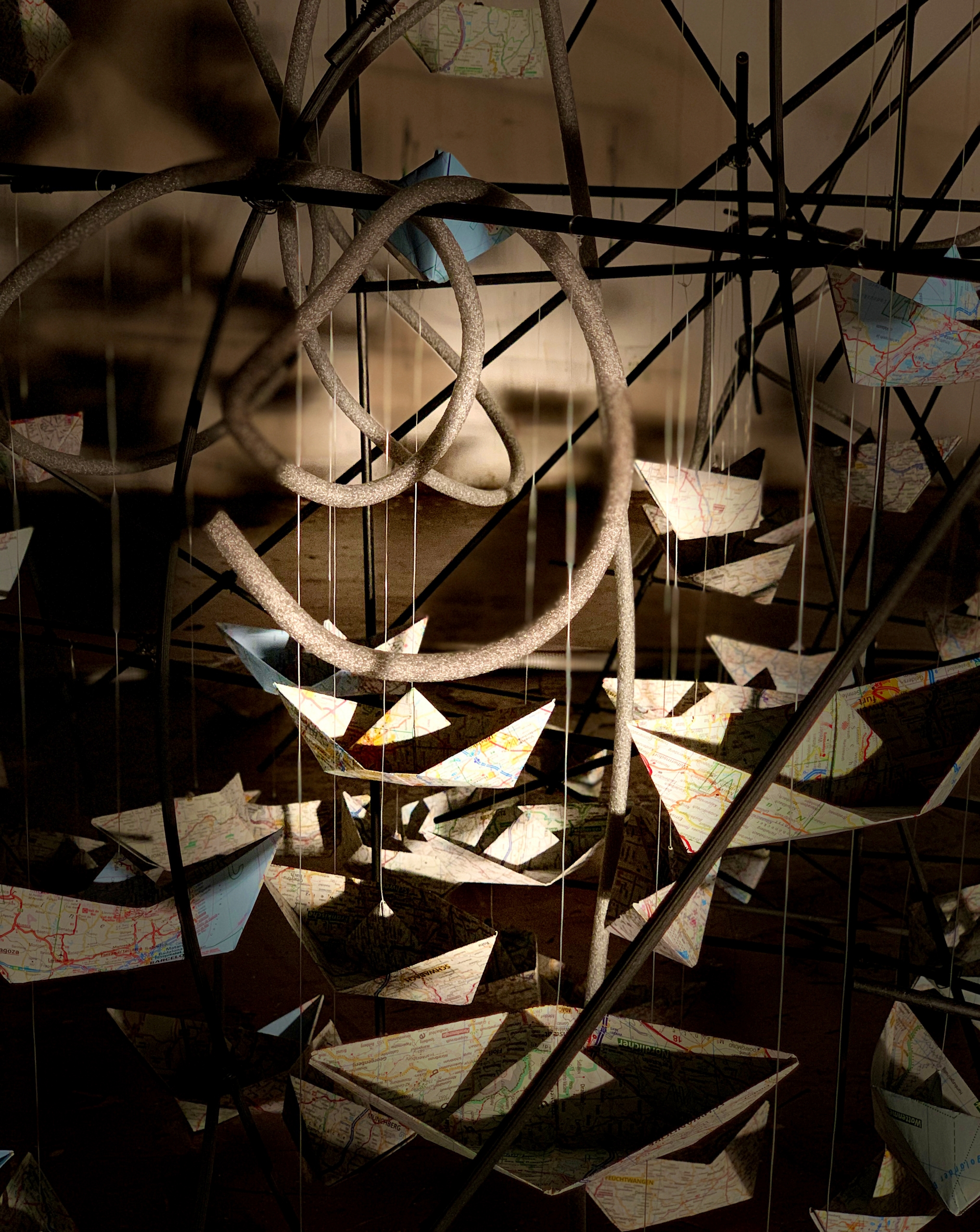 Born in Tehran, Farnaz Dadfar is an interdisciplinary artist based in Gadigal Country (Sydney) who works in the mediums of installation, text, painting and video. Based on her nomadic experiences living between the East and the West, she explores diverse geographical, cultural and political parameters through a lens of migration and displacement. In LIA, Farnaz presents Psychogeography of Blood (2023), a cartographic, multimedia installation incorporating maps embedded in printed German text as literal artistic materials. Along with experimental video and audio works, her multilayered research-based practice implicitly examines the role of social media in tracing the unfolding tragedy of Iran's socio-political crisis under the slogan #WomanLifeFreedom. It seeks to conceptually interpret the purpose of art making from the perspective of renowned contemporary artists in the context of catastrophic events.
www.farnazdadfar.com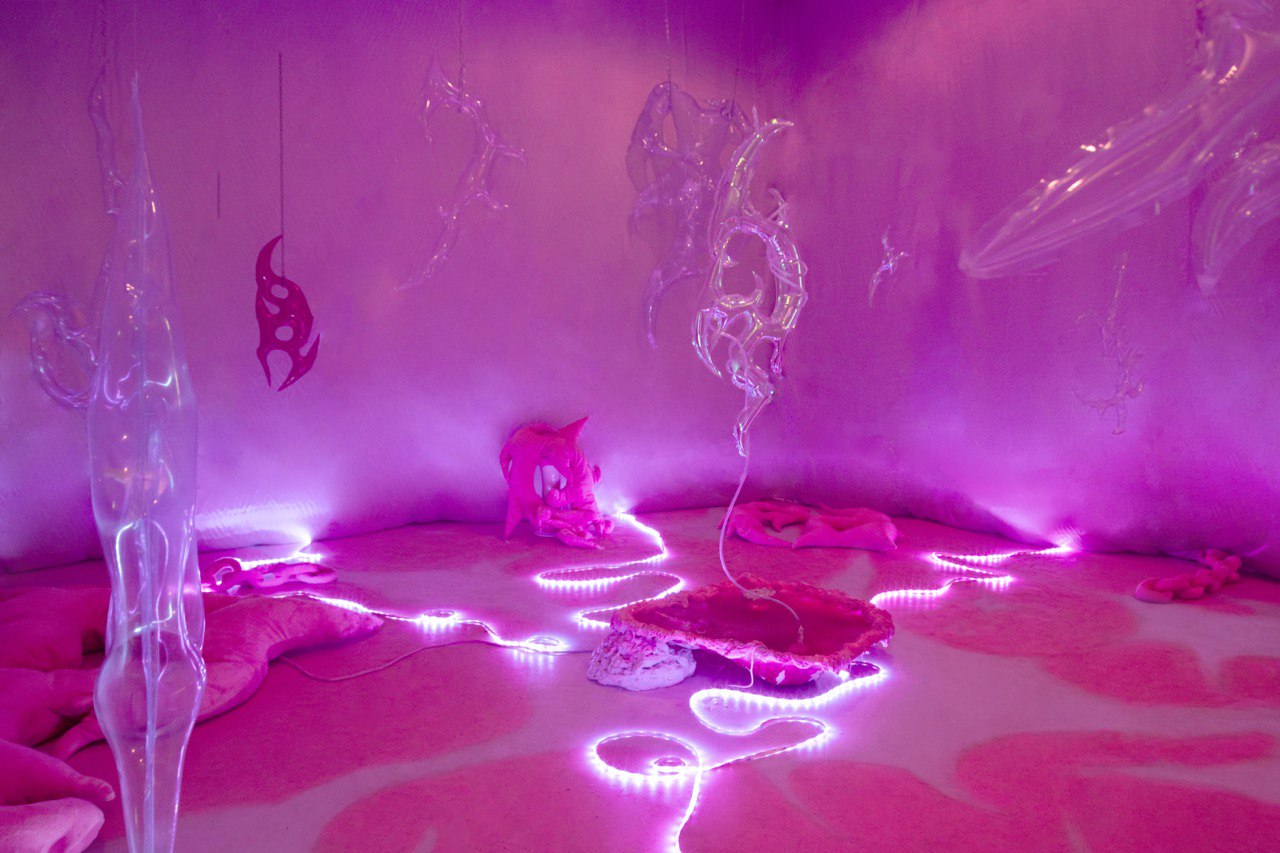 Hannah Neckel (Austria) is based online as @cybervoid69 and is a Transmedia Artist
merging online & offline worlds in aesthetic bliss.
Online, the self becomes de-centred and multiplies without restrictions and in which social media has transformed into a virtual stage, where the diversity of new approaches to performance investigates and reshapes, mainly, the relation between reality and simulation, but also code and body and the very perception of the self through its digital double(s).
www.hannahneckel.com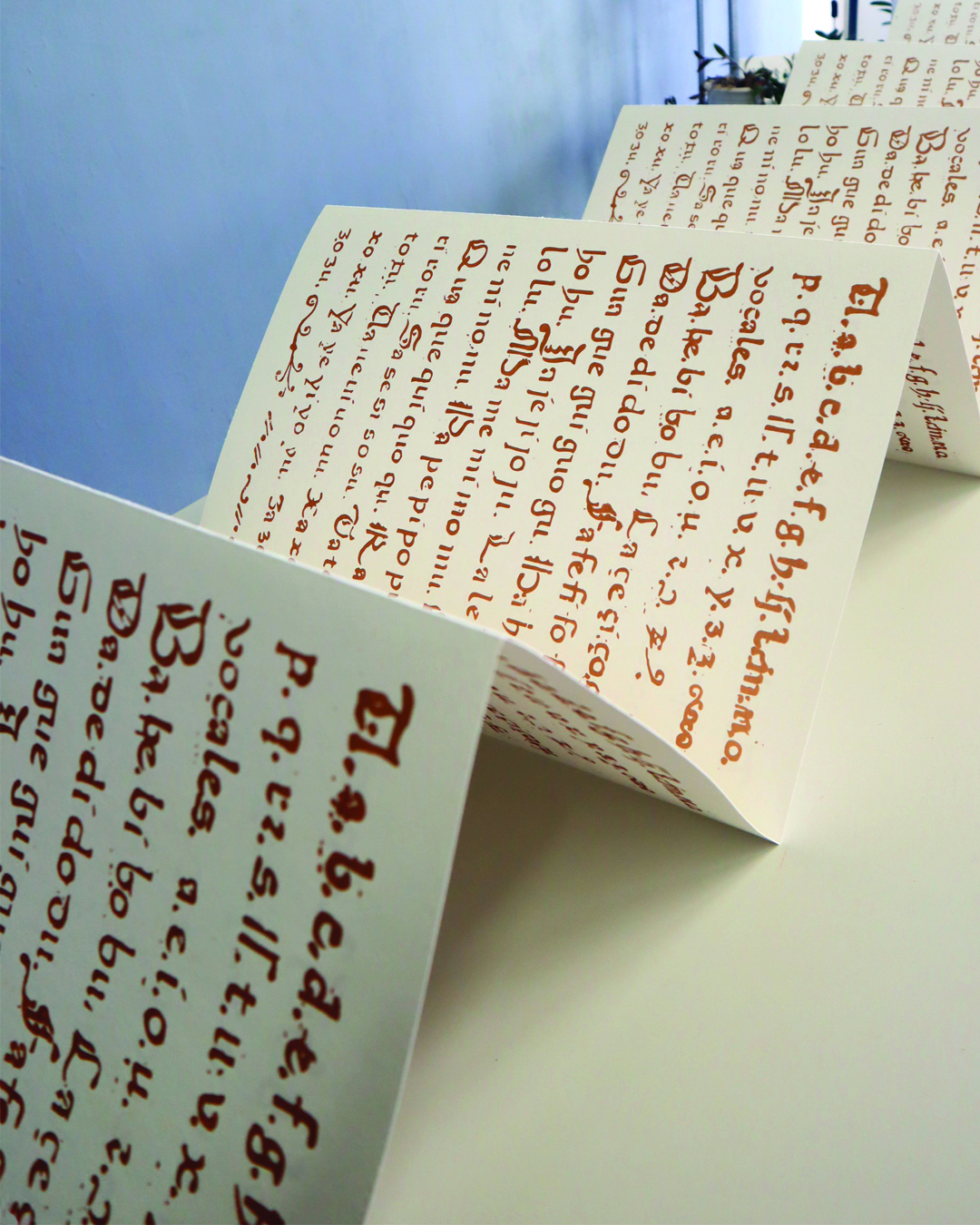 Unbound is a large-scale piece by Lee Paje that reflects her perspective on gender and the diverse narratives surrounding it, particularly the ones that were inherited from her country's colonial history.
In her three-month residency at LIA, Paje creates an explorative work that incorporates painting, printmaking, and sculpture. Using historical archival text repeatedly printed on a Leporello book, she paints over, cuts and transforms it into a three-dimensional installation. In altering the form of a book, she creates forms and possible realities not bound by the text and its pages.
Lee Paje is a visual artist from the Philippines. She makes use of various materials such as painting on copper, sculpture, printmaking, video and public art installations to create works concerning independence, individuality and identities.
www.leepaje.com
​​She is awkward, complex, and has a quirk to her expression. Residing in Johannesburg and the cyber village called the Internet. Natalie Paneng is a new media artist using installation and digital magic to birth new worlds and surrealist narratives in which she performs. Through her work, Paneng investigates the role of the alternative black woman within warping narratives, using herself as a medium to prompt others to explore their own internal surrealist worlds. Through her work, she normalises this plane of existence while offering the viewer the chance to enter into her dreams, her thoughts and her digital mind.
@nataliepaneng_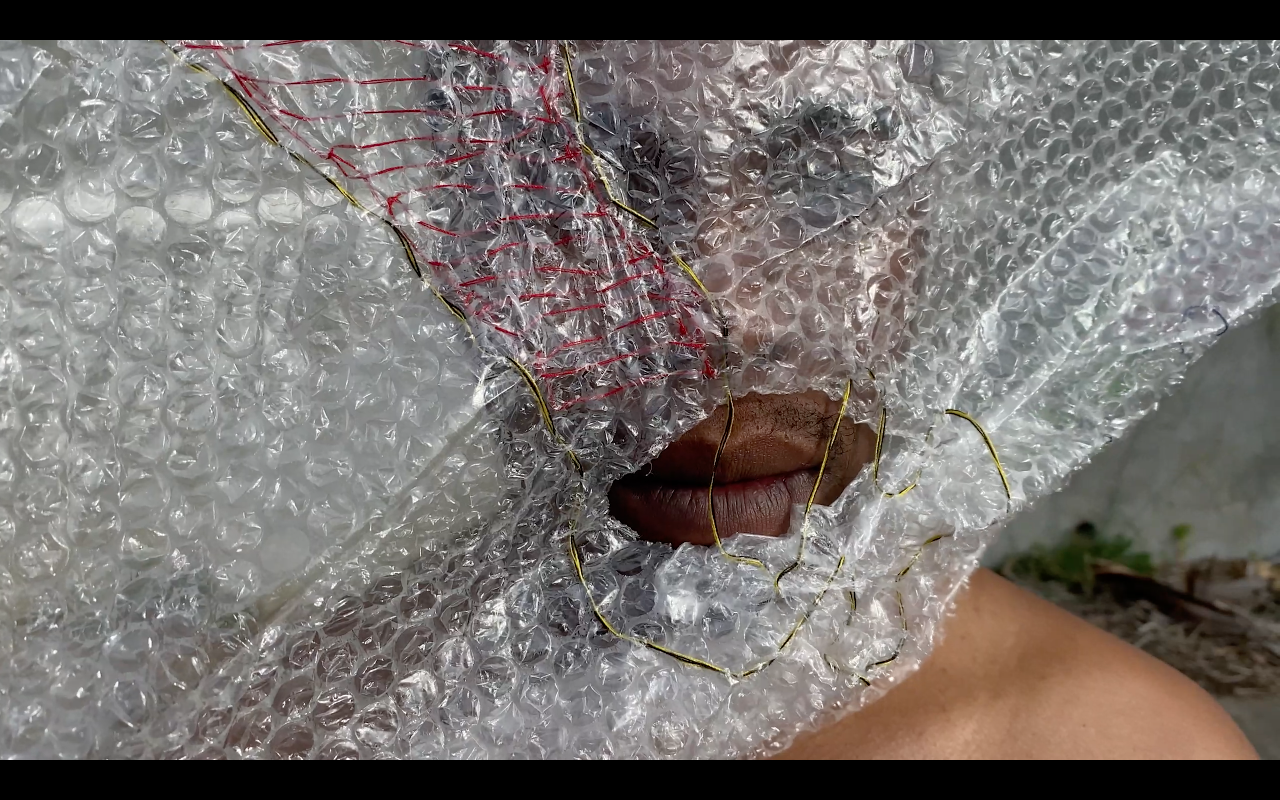 Oupa Sibeko (South Africa) is an interdisciplinary artist whose work moves between theatrical, gallery, scholarly and other public contexts, overtly dealing with matter and politics of the body as a site of contested works.
Umkhuleko simply translated as
a prayer
Is a plea…a plea for a variety of
things
But mainly of harmony, because in
harmony everyone strives
In bubble wrap we pray
@oupa.sibeko
Yim Yen Sum (Malaysia) enjoys the art process that involves interaction and requires the participation of the audience to inform and perhaps complete it. For her, art creation is not only an individual act but instead a process that connects people together and bridges new relationships. Every person is an individual coming from a unique background, with a different story and experience. One move with his own will in the space with a chance meeting. There are uncertainties in connections and spaces between people that may trigger various imaginations and inner feelings that can lead to ineffable personal feelings and memories. These new connections make life seem like a cell, starting from a small unit and gradually splitting into more units and then forming a whole, with the ability of infinite regeneration and possibilities.
@yensum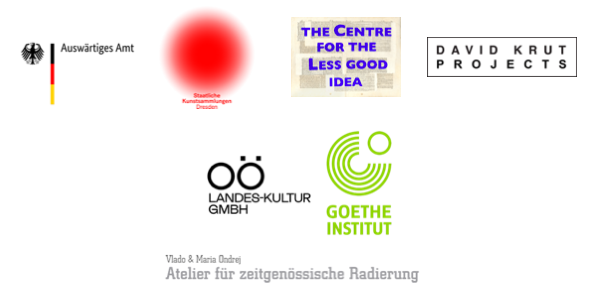 Warmly thank you also to the cooperation with the University of Sydney.