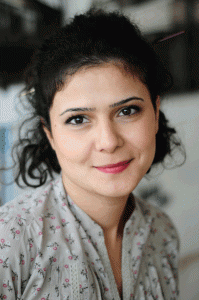 born in 1985 in Turkey. She attended Mugla Anatolian Fine Arts High School in 1999. After that she graduated from Anadolu University Education Faculty, Painting Master Department to wich she attended in 2003. Immediately after she went to England. She has benn giving figure lectures since 2009 in her workshops in Antalya and at the same time she is carrying on her own studies.
We can consider the representation problem to which Şifa focused on in her studies like that: Communication technology age in which we are in seems to capture the human being's privacy and embarrassment. With the effect of growing social network sites, in the past individuals used to expose just their faces and now they are exposing their bodies freely. It is not known for sure whether it's because the images' being more superficial more than any century but humankind has never before been so exhibitionist in this world to which he became naked,in other words we can say that he hasn't lived through such a term in which he gave rein to turn into an image.
In the process which she began by reflecting some troubled states of human, the thing she realized later on is how human being exposes his most private moments? In their portraits on which they have diaries that no one can read, writing and the meaning cannot show itself and that drags the portraits into a dilemma. Other than that; writing in that point beyond the portrait's convenience to form only visually, is in the quality that challenges against ill luck of the picture and the image which generates it. Namely, the matter that the writing used on the portrait has another deepness rather than formal superficiality is an opposite position to today's image.
Later, the written portraits of well-known and unknown people she handled, was composed to catch the deepness mentioned and to regain the anxiety of recovering the lost embarrassment. Eventually, that era in which we face simulacrum density and technology which makes it superficial at the same time brings about a representation problem. Studies in this sense appear as an approach expressive to representation problem.
Personal Exhibitions
2005 11-18 April Gallery of Anadolu University, Eskişehir, Turkey
2007 20-25 April Gallery of Haller Gençlik Merkezi, Eskişehir, Turkey
Mixed Exhibitions
2005 Turgut Pura Sculptor Competition, İzmir, Turkey
2006 Turgut Pura Painting Competition, İzmir, Turkey
2006 Sütçü İmam University Painting Competition, Kahramanmaraş, Turkey
2006 International Modern Arts Festival, Kapadokya,Turkey
2007 Mixed Painting Exhibition – Gallery of Haller Gençlik Merkezi, Eskişehir, Turkey
2007 Mixed Painting Exhibition – Gallery of Museum, Muğla, Turkey
2008 Portrait Exhibition – Brooklands Library, Weybridge, London, England
2011 The District Festival of Kruezberg, Berlin, Germany
2011 "Informationists", Mixed Painting Exhibition, ArtPark Gallery, Antalya, Turkey
Relevant Experience
2006 Attended as an Artist at International Modern Arts Festival, Kapadokya,Turkey
2007 Worked as an Art and Craft Teacher at the Educational Volunteers, Eskişehir, TURKEY
2008-present Worked as an Drawing Teacher at self studio, Antalya, TURKEY
Education
1999-2003 Fine Art High School, Muğla, TURKEY
2003-2007 Education Faculty, Fine Art Education and Painting Master Department at Anadolu University, Eskişehir, TURKEY
Information
sifart@hotmail.com
www.sifagirinci.com