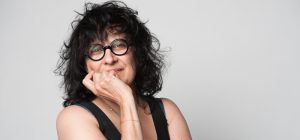 Sadia Sadia is a director, editor, producer and installation artist. She is also an award-winning record producer and songwriter. Sadia began her career by becoming one of the first women in the world to be signed to a major label as a record producer. She currently works with moving images as an editor and director, as well as creating experimental short films, installation works, and soundfields. She has an M.Sc. in Political Science and Economics (Gender, Culture and Society) from Birkbeck College at the University of London as well as a further M.A. in Design Studies from Central St. Martins. Sadia has campaigned for peace and against racism in both print and broadcast media.
Music
1978-1993
Signed to EMI as a record producer, Sadia worked largely with the Canadian guitar player David Wilcox producing the albums 'Out of the Woods', 'My Eyes Keep Me In Trouble', 'Bad Reputation', 'Breakfast at the Circus', and 'The Natural Edge', many of which achieved gold or platinum status. She also co-wrote many of the titles on these albums. These recordings formed the basis of a number of 'Greatest Hits' packages, including the platinum-selling 'Over Sixty Minutes With'.
Her work has been sequenced to films starring actors such as Dan Akroyd, Gerard Depardieu and Tom Cruise, to documentaries such as 'The Corporation', as well as to films and television programmes by Polygram, Miramax, Interscope, Universal Pictures, Touchstone, CBC (Canada), ABC and Network 7 (Aus.) among others.
On emigrating to the United Kingdom Sadia became the first female member of the British Record Producer's Guild (now MPG) and sat on the Board of Directors for several years under the chairmanship of Robin Millar CBE.
1993 – present
Sadia was a founding member of the multimedia world fusion project 'Equa' with Stephen W. Tayler (Suzanne Vega, Peter Gabriel, Eric Serra, Bob Geldof, Kate Bush), which was signed to Polygram (Australia) in 1996 and produced the eponymously titled ARIA nominated album 'Equa' the same year.
The Sydney Dance Company has two works in their permanent repertoire, 'Unwitting Sight' (1998) and 'Cradle Song' (2001) both choreographed by Wakako Asano to music by Equa.
In 1996, Sadia also worked on the TUC (Trade Union Congress) 'Respect: Unite Against Racism' campaign, producing the single 'Respect', which featured dozens of international recording artists. The project received national media coverage as well as a commendation from the House of Commons (UK) through the passage of an Early Day Motion (EDM).
Films and Installations
Sadia produced, edited and (working with Stephen W. Tayler as Equa) scored the short film 'The Noon Gun' The film received a grant from the British Council, and had its world premiere at the 53rd Melbourne International Film Festival in 2004. It had its UK premiere at the National Musuem for Photography, Film and Television (now the National Media Museum) in Bradford in September 2004. It was shortlisted for the Satyajit Ray Foundation Short Film Competition, and has been screened at the Portobello Film Festival (July 2007), the World Performing Arts Festival (Pakistan, November 2008), Film Mutations (Zagreb, Croatia, December 2008) and the Cleveland Museum of Art (2007). The Tricycle Theatre ("Britain's leading political theatre" The Guardian) screened 'The Noon Gun' as part of their season 'The Great Game: Aspects of Afghanistan' from May 1st-10th 2009.
Sadia also produced and edited the short 'The End of the Party: Hyde Park 1969', a view of the 60's based on previously unseen footage of the famous first performance by Blind Faith in Hyde Park; produced and edited 'Iggy the Eskimo Girl', a short featuring Syd Barrett's (Pink Floyd) girlfriend Iggy, ubiquitously and affectionately known in the 1960s as 'Iggy the Eskimo Girl'; and directed, produced and edited the film 'Lit From Within: The Film and Glass Works of Anthony Stern', a short documentary by Sadia about the filmmaker and glass artist Anthony Stern which explores some of Anthony's life and works, and examines the aesthetic and philosophical relationship between glass and film as materials through which light passes.
She also worked as director, editor, producer and sound designer on 'San Francisco Redux No. 1', a single-channel installation. These films had their world premiere as part of the curated programme 'Le Cinema de L'Avant Garde' at the Cinematheque Francaise in Paris, France in June 2008. 'San Francisco Redux No.1' went on to be screened at Lussas 'États Généraux du Film Documentaire' and was the subject of the essay 'Body to Body: On the Subject of Regrettable Searching' by the noted film critic and theoretician Nicole Brenez.
Sadia is also the creator of the single channel video installation 'The Memory of Water (Part 1)' which was acquired by ACMI (The Australian Centre for the Moving Image) to form part of its permanent collection of "exemplary works by Australian and international artists". It featured in the exhibition 'Proof: The Act of Seeing With One's Own Eyes' and ran as a loop from December 9th 2004 to February13th 2005 as part of the exhibition, as well as appearing on a host of internal and external screens in the Federation Square complex.
In 2009, Sadia was awarded a Studio 18 artists' residency, for international "contemporary visual artists pursuing an innovative practice in a professional capacity" at Gertrude Contemporary in Melbourne, Australia. This also marked the first public view of her 2009 installation work 'Noise/Ghosts of Noise'.
During this time she authored her filmed multi-channel installation 'Metamorphoses in 'A' Minor', with the support of Doug Mitchell of Kennedy, Miller, Mitchell and filmed at their motion capture soundstage at Sydney Gate, with the support of Gertrude Contemporary and a British Council (Aus) artist's grant.
In January 2014, Sadia completed 'All Time and Space Fold Into the Inifinite Present (Cataract Gorge)' a large-scale three channel filmed installation with an accompanying eight channel soundfield. The work premiered at the Queen Victoria Museum and Art Gallery (QVMAG) Inveresk, Launceston, Tasmania, on January 10th 2014 and ran through March 2nd 2014. It has since been acquired by QVMAG to form part of their permanent collection.
Research Interests
From 1992 to 1994 Sadia completed a part-time M.Sc. in Political Science and Economics, with a specialisation in Gender, Culture, and Society. This arose out of her experiences working in commercial recording studios and the status of women in the recording industry, and gave rise to a specific interest in the status of women in the workplace. She also researched childhood sexual abuse among the female homeless population in Central London.
From 1999 to 2000, she pursued a full-time Master's Degree at Central St. Martin's, which focused on sensory and experiential design studies, including the formation of sensory memory.
Still Images/Painting
'New Faces', Berkeley Square Galleries, London, 1989; 'Orchidea et Mangostini', still images + ambient audio installation, March 2002 and 'A Language of Butterfly Wings' still images + ambient audio installation, November 2002, both Westbourne Studios, Notting Hill, London. Sadia is an occasional contributor to the photography magazine 'DayFour', including the 'Ulysses' (2005) publication and exhibition as well as DayFour's 'Ulysses II' (2010) publication and exhibition (Printspace, London, December 2010-January 2011).
Lecturing
Among others, Sadia has been a guest lecturer on the subject of 'Media and Ethics' at the University of Brunel (Buckinghamshire Campus), at Sotheby's Institute (London) on 'Women in Late19th & Early 20th Century Art', and a keynote speaker at the AES (Audio Engineering Society) 50th Anniversary Conference at the Jacob Javits Centre in New York on the subject of 'Gender Issues In Audio Production'.
Books
On June 26, 2013 Sadia's first book 'Notes To An Unknown Lover' was released by Bybrook Press. It is held at the Bodleian Library, Oxford University.
Studio
Since January 2013 Sadia has been based out of one of four project spaces at Peter Gabriel's Real World Studios in Box, Wiltshire, UK.
Selected Bibliography
Studio Sound, 'Winning Women In The Industry', November 1990; Studio Magazine,'Frills and Spools', Dec. 1990; Audio Media, 'The Female Touch', February 1991; BBC Radio 4, Women's Hour, TX April 24, 1991; The Independent,'Cutting Through Tape', Oct.1991; Recording Musician,'Production Lines', August 1992; The MIX,'Fiddling the Meter', November 1994; BBC Radio 1,'The Glass Ceiling, TX November 1995; 'She Bop: The Definitive History of Women in Rock, Pop, and Soul', O'Brien, Lucy, London:Penguin 1995; Music Week, 'In The Studio: TUC United Against Racism 'RESPECT' June 1996; Rolling Stone (Aus), 'Equa', December 1996; Opus, 'Sadia: the Equa Project', Oct.96; The West Australian, 'Tropical Heartbeat Meets Technology', Sept. '96; Herald Sun, 'Melting Pot of Sound', Oct. '96; 'Proof: The Act of Seeing With One's Own Eyes', Stubbs, Mike (Editor). ACMI. Melbourne:Australia 2004; Herald Sun 'Keeping Eyes on the Truth', December 2004; The Australian 'Screening The Truth' , December 2004; Contemporary Visual Arts and Culture, 'Proof' March-May 2005. Artabase, 'Metamorphoses in 'A' Minor: Sadia Sadia in conversation with Amita Kirpalani', Sept. 2009; The Examiner, 'Sadia Gains A Sound View of Tasmania' Jan. 2014.
Contact
www.chimera-arts.com