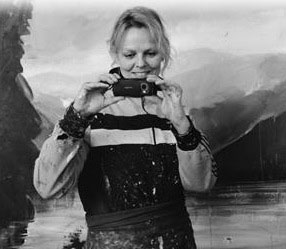 Lives and works in Amsterdam
Through painting Annemarie Vink documents everyday life, on canvas or recently on paper. Moments from her close surroundings are the topic of almost all her paintings. Small details that catch the eye. Like her sons morning coffee, flowers on a dashboard or a little collar with shiny buttons.
Vink makes these discrete visual moments literally bigger through the use of large-format paintings, but actually mainly by painting them again and again. The process of creating a painting is in that respect a very important issue in the work of Vink. The sluggish paint makes it possible for her to prolong and control these fleeting moments, to make them tangible, and thus, as it were for a moment to solidify time.
Education
1979-1984.Kunst Academie Kampen (NL) Fine Art and graphic (printing). www.artez.nl
1985-1987 Basic ceramic education in Bolsward, attached to Koninklijke Tichelaar Makkum (Nl)
1990-1991 Art in education & history of art in education. Hogeschool voor de kunsten Constantijn Huygens te Kampen (NL) www.artez.nl
Exhibitions 2016 – 2004
2016 27 – 30 december This Art Fair 2016 Beurs van Berlage Amsterdam (NL)
2016 1 – 30 october The Big DrawTekenkabinet Kalkmarkt Amsterdam
2016 17 – 18 september Rundgang LIA halle 18 Leipzig (DE)
2016 Moments PEER Paper Platform (solo/residency) Amsterdam
2016 Memorenda PCB Uitvaartzorg Nieuwegein. (NL)
2016 Iets met bloemen Galerie Beeldend Gesproken Amsterdam
2016 Drawing Front Tekenkabinet in Nieuw Dakota Amsterdam
2015 This Art Fair Beurs van Berlage Amsterdam
2015 Schwarzmalen www.schwarzmalen.nl
2015 Hangen doe je toch. Arti Et Amicitiae, Amsterdam
2015 Woest / Zomer expo Gemeentemuseum Den Haag (NL)
2013 Sweet, sweet, bittersweet (duo) Grote Kerk Oosthuizen (NL)
2013 Lichtvoetig zwaarmoedig. (solo) Galerie Vier bij vier, Vianen (NL)
2011 De dingen die er niet zijn. Light installation using projection in an underground parking Amsterdam with Mirjam Berloth, Claire Leenaers, Bernadette Jilesen.
2012 Buurtsuper. Five artists in an empty supermarked, Bos en Lommer Amsterdam
2012 Sketchbook (duo) iPad drawings at Cantina Guadalupe Amsterdam
2011 Kiemkracht CBK Amsterdam
2011 Light Of Day (solo) Retort Art Space Amsterdam
2010 Ondergronds. Gesamtkunstwerk met Mirjam Berloth Amsterdam
2010 Meer Licht. Slagerij Witte de Withstraat Amsterdam
2009 Galerie 14-16 Posthuys De Koog Texel (NL)
2008 Domestic Horizon (solo) Kochxbos gallery Amsterdam
2008 Museum Willem van Haren (solo) Heerenveen (NL)
2007 Fields (solo) KochxBos gallery Amsterdam
2007 Zeven Sloten De Baarsjes Amsterdam Met Berloth, Leenaers, Jilesen.
2007 Bezembinders'A Weblog in the flesh, projectspace Zoete Broodjes Amsterdam
2006 Rural Exposure. Garage Groeneveld Amsterdam
2006 Bramenlanden (solo) Kochxbos gallery Amsterdam
2005 Tribute to Garage Groeneveld. Garage Groeneveld Amsterdam
2005 Danach weinen zaehlt nicht. Galerie Indruk Den Bosch (NL)
2005 No Schmuck. Garage Groeneveld Amsterdam
2004 Het Landschap van Welbehagen. Loods 6 Amsterdam
Residencies
2016 aug/sep/oct residency at Leipzig International Art programme (DE)
2016 april/may residency at PEER Paper platform Amsterdam (NL)
Publications
2016 NOTES by Peer Paper Platform Amsterdam.
2015 Grote amsterdamse Kunstkalender 2016 page 5 december www.groteamsterdamsekunstkalender.nl
2015 catalogue Zomerexpo – Woest- Gemeentemuseum Den Haag.
2015 http://trendbeheer.com/2015/11/11schwarzmalen/ stages of my painting :Playing Paustovski".
2015 This Art Fair 2015- Nanette Kraaikamp http://thisartfair.com/artist/annemarie-vink/
2015 http://jegensentevens.nl/2015/12/this-art-fair-een-handleiding/
2013"Spiegels van het dagelijks leven – Rob Perree
2013 Kunst va de dag-Galeries.nl 8 maart – Han van Wel.
2011 Light of day – Nanette Kraaikamp for Retort project space.
2009 Het spel en de knikkers – Rob Perree
2008 De ongrijpbare wereld van Annemarie Vink. Fries Dagblad – Jurjen van der Hoek
2006 Bramenlanden – Lonneke Kok for Kochxbos gallery Amsterdam
Teaching
1990 -2016 workshops at several schools and institutions: a.o: Grafisch Atelier Kampen, GOCK Hilversum, MK24 Amsterdam, Cultuurhuis Wherelant, Purmerend (NL) Museum Singer Laren (NL)
2012-2016 teacher at Schilderen in Belgie. (BE)
1994-1995 teacher at summerschool with Alex Verduijn,Teruel (ES)
1985-1990 co-founder of print making studio for silkscreen, lithography, etching, lino/woodcut. Grafisch Atelier Kampen. (NL)