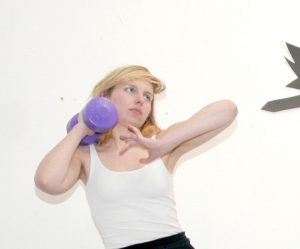 Born in 1983 in Deauville, France.
Fleur Helluin studied under the direction of Gilian Gelzer and Joel Hubaut in Caen, France, and Norbert Bisky in Salzburg, Austria. She was also part of the academic program Art & Technology of the Image in University Paris 8.
Her works question our relationship with technics between sensitive experience and metaphysics. The representation of the figure at the time of 'Digital Ontophany' is her principal focus through the depiction of screen-oriented culture with traditional oil painting. Other work interests include cartography, archaeology and club culture.
Her practice is focused on painting, and incorporates performance, installation and sound experiments. Her works have been shown with Bill Viola, Norbert Bisky, Damien Cadio, Amélie Delaunay or Cécile Wesolowski.
Since 2006, she lives between Berlin, Germany and Normandy, France. Fleur Helluin funded the alternative dance-punk band Plateau Repas in 2005 with Marianne Jacquet and Valentin Plessy. Still active in 2016, Plateau Repas is regularly programed in european alternative clubs.
Education
2013 Sommerakademie Salzburg, class of Norbert Bisky, AT
2005-2006 Laboratory Arts & Technology of the Image, University Paris 8, FR
2004 University Of Toronto, under the direction of John Armstrong, CA
2000-2005 ESAM Caen, under the direction of Gilian Gelzer, FR
Solo Exhibitions
2014 3A KAMENOT, OSTEN Gallery, Skopje, MK
2013 Cyberspace and Golden Age, AKA Galerie, Berlin, DE
Group Exhibitions
2016 Galerie CCA, Jersey, UK et Museum Haus Eichner, Berlin, DE
2016 L'Empreinte Directe du Vécu sur le Temps, Galerie Duchamp, Yvetôt, FR
2015 Observations : Light, Abbaye aux Dames, Caen, FR
2015 TRAIT, parcours d'art contemporain, FR
2015 70 Combats pour la liberté, Musée Quesnel-Morinière, Coutances, FR
2014 Berlin Open House, Konzulat, Berlin, DE
2014 The Blank Cartridge, Schloss Neuschweinsteiger, Berlin, DE
2014 70 Combats pour la Liberté, Le Radar, Bayeux, FR
2013 D'un Mur à L'Autre, Le Radar, Bayeux, FR
2013 Amazons, S19 Galerie, Berlin, DE
2013 Des Corbeaux Délicieux, Ateliers Intermédiaires, Caen, FR
2012 In Bed With Unicorn, Hausen am Zoo, Berlin, DE
2012 An Idea of Reality, .HBC Gallery, Berlin, DE
2007 Biennale Supermarket of Love, Varsovie, PL
2007 Le Grand Chelem et le Petit Schmilblik, Galerie La Vitrine, Paris, FR
2007 Les Limites de l'Art, Ecole des Beaux-Arts de Paris, FR
2004 Pirate Hearttack, Taïpeï, TW
2004 Presentations, Blackwood Gallery, Toronto, CA
2004 Zebra Crossing, Centre d'Art Contemporain, Hérouville St Clair, FR
Residencies
2016 LIA, Baumwoll Spinnerei, Leipzig, DE
2015 Domaine de Villarceaux, Val d'Oise, FR
2015 Jersey Art Trust, Jersey, UK
2014 Hors-Piste, Alençon + Iconoclasses, Yvetôt,, FR
2013 Coopération Décentralisée, Skopje, MK
2011 Théâtre de Monthey, Valais, CH
Publications
2015 Trait, Catalogue d'exposition, FR
About a Stone, Catalogue d'exposition, FR/MK
2014 The Blank Cartridge, Catalogue d´exposition, DE
2013 Y a qu´à, Les Analogistes Editions, FR
2011 Ah-Ah, La Boum Fatale remixes, Sinnbus Records, DE
2010 Ich Bin Ein Berliner, compilation, Arachnid Records, FR
Bonafide, Randy Twigg remixes, Tigerbeat 6 Records, DE
Animals, Kit remixes, Personne Records, FR
2009 Crunchy Crunch, revue sonore de Joel Hubaut, Editions La Station Mir, FR
2004 Honest Face, Sheridan College, CA
Zebra Crossing, CAC Hérouville St Clair, FR
Lectures
2015 TRAIT, Pole Muséal de Lisieux, FR
2014 3A KAMENOT, Université Européenne, Skopje, MK
Autres
2013-2016 Manchette régulière : Passion Painting, Kaltblut Magazine, DE
2009 Lauréate Prix Modepass, FR
2006 Lauréate Prix Duncombe, FR
2005-2010 Avec le groupe Plateau Repas, environ 200 performances dont entre autres le
Point Ephémère, le Showcase, la Flèche d´Or à Paris, le SO36, le Bar25, la Festsaal Kreuzberg, le
Magnet, le West Germany, le Kater Holzig à Berlin et à Bruxelles, Tel Aviv, Prague, Varsovie,
Luxembourg, Genève, Hambourg, etc..