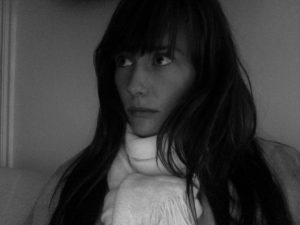 Locating the central component of her practice in painting, Jahnne has come to consider how previous experience of working with site and installation has come to inform her approach. Entering into making paintings from this minor or external position, her aim is to emphasise this exteriority as having its own language that also can enable latent possibilities to emerge. There is a slippage that occurs between my engagement with the exterior environment, of looking and gathering to that of the studio; a condensed and focused space. Using collected materials, often previously discarded, they fuse together on various plains within the cohabitation of the studio to create something new. The studio facilitates the process of addition, the collection from outside, to amalgamate into a surface. In the studio, surface is the main frame to compose material and fabrics. Through an intuitive process of mark making and gesture a language of painting emerges.
Selected Solo Exhibitions
2015
YOU ATE THE FULL COLOUR PHOTO OF PLUMS: Long Division Gallery, Collingwood
OIL COTTON WAX, Diane Singer, Melbourne
BLUE PLASTIC, Zeppellin Projects, Brunswick
ORANGE PLASTIC: Weinman-Scida Project Space, Victorian College of the Arts, Melbourne
PRACTICING VARIOUS ALTERATIONS: Testing Grounds, an Arts Victoria initiative, coordinated by These are The Projects we do together, Melbourne
2014
DOUBLE BED SHEET: Brunswick Lake
A SURFACE TO CUT PAPER ON, OTHER THAN THE FLOOR: Artspace, Auckland, New Zealand
NEGOTIATING EXISTING SURROUNDINGS: Bus Projects, Melbourne
Selected Group Exhibitions
Daine Singer at Spring Art Fair: Sydney, 2015
BRUNSWICK SCULPTURE CENTRE INAUGURAL EXHIBITION: Brunswick Sculpture Centre, Melbourne
Student Gallery, Victorian College of the Arts, Southbank, Melbourne
2014
4×10:performance with Arini Byng, Slopes, Melbourne
MAKING DO with Xin Cheng Chris and Burnstene, Artspace, Auckland, New Zealand
DAS BOOT: Next Wave Festival, Melbourne, Australia
2013
A PLACE TO ASSEMBLE: Nes Artist Residency, Skagastrond, Iceland
WAYS OF OPERATING: Rearview, Melbourne
CHIMNEY PIECE with Jen Reimer and Max Stein (Cananda), Summer We Go Public Program, Iceland
2012
LOCATING POSSIBLE TRAJECTORIES: 910 Lofts, Brooklyn, New York
KNOWING ME, KNOWING YOU with inner course, Pulse Art Fair, Chelsea, New York
2011
PANTIES FOR DIAMONDS: curated by Thomas Beale, Honey Space, Chelsea, New York
MOVEMENTS WE MAKE ALL THE TIME: Counihan Gallery, Melbourne
Residencies
Leipzig International Art Programme, Germany, Feb-March 2016
Testing Grounds, an Arts Victoria initiative, coordinated by These are The Projects we do together, Melbourne City, 2015
Artspace Studio Exhibition Residency, Auckland, New Zealand, 2014
Nes Artist Residency,2 month residency, Skagaströnd, Iceland, 2013
Rome Art Program,1 month residency, Rome, Italy, June, 2010.
Grants / Awards / Other
ARTS VICTORIA project grant, 2015
NAVA Australian Artist Grant, 2014
ARTS VICTORIA Cultural Exchange grant for NES artist residency, 2013
Scholarship received from Metasenta, for Rome Art Program, Rome, 2010
Student Development Fund received from RMIT for Rome Residency, 2010
RMIT Union Arts Funding, 2010
Co-founder of BRUNSWICK LAKE an independent project space. 2014-15
Publications
MAKING DO with Xin Cheng and Chris Burnstene ,Artspace Publication, officially launched at the
Auckland Zine fest, Auckland, New Zealand, 2014
A SURFACE TO CUT PAPER ON, OTHER THAN THE FLOOR catalogue, Artspace, Auckland, New Zealand, May 2014
Education
Bachelor of Fine Art, First Class Honours, Victorian College of the Arts, 2015
Bachelor of Fine Art (Drawing),Royal Melbourne Institute of Technology,2010