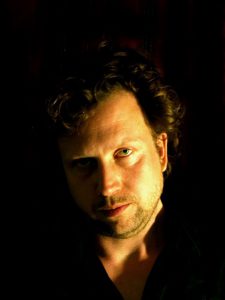 Oomen completed is art-education at the Royal Academy of Fine Arts, The Hague in 2000. In 2004 he produced his first large mural "Roosje" in downtown Amsterdam. In this mural, a 15 meter high naked model caused social and political riot during the full summer of 2004. The mural was bombarded with paintbombs. During the restoration the mural, Oomen decided to 'censor-out' her lower parts, to make a statement on the fierce reactions the mural implied in public. This action made him aware of his social engagement in art.
The work of Rombout Oomen (Amsterdam, 1975) finds itself on a cutting edge of opposites. The compositions of Oomens paintings seem to be inspired by the period of the Enlighten- ment. But in the performances of its scenes, cool rationalism is the only absentee. The light that shines in his work is flaming and dangerous. The people portrayed entered somewhere in the eighteenth century at Jacques-Louis David's revolutionary and thrilling environment. Perfumed, well cut and fit, they began celebrating a decent and enlightened ball. In Rombout Oomen's work, they finish possessed, stuffed and tired without illusions in a bacchanal where they never found the exit. Unhinged in a circus carousel that led them drunk through the night. No reason, love or salvation remains. Only worn out lust and grotesque concepts, which per- haps give moments of thrill and instant happiness – but do not ask for how long.
Rombout Oomen likes to paint in series. Such as his Slumberland Manifesto. Often he chooses large formats – wall paintings, factory size cloths in industrial buildings or just one side of a skyscraper – such as his Swan on the A'DAM-tower on the river IJ in Amsterdam. Work who does not hesitate to rather shout out something, though that call is more ambiguous than you think. As the work of Oomen is expressive, but never noisy. If you take the time to study on his euphoric pictures you will discover somewhere in the depth a hushed poignant element. You're going to suspect that in the darkest corner of his work a Romantic element lays bare. As has been said: the cutting edge of contradictions
(by Bas Kok, Dutch historian and journalist)
Oomen completed is art-education at the Royal Academy of Fine Arts, The Hague in 2000.
In 2004 he produced his first large mural "Roosje" in downtown Amsterdam. In this mural, a 15 meter high naked model caused social and political riot during the full summer of 2004. The mural was bombarded with paintbombs. During the restoration the mural, Oomen decided to 'censor-out' her lower parts, to make a statement on the fierce reactions the mural implied in public. This action made him aware of his social engagement in art.
In 2005 Oomen lived and worked for a period in Berlin. During this stay he studied on his work and its philosophical and pictorial connection with Northern European (German) art.
Since 2007 Oomen resides at NDSM-wharf in Amsterdam North, one of the largest creative studio-spaces worldwide. He was part of the board representing the renters of NDSM-wharf in 2008
During the first two months of 2009 Oomen revisited Berlin, for a working period on a novel and a drawing-book.
In 2010 Oomen made a four-part drawings-mural for the North-face of the NDSM-wharf.
A two months travel in 2011 throughout Germany, visiting numerous museums and art galleries, increased his knowledge of German art and his own work.
His most resent mural named "Swan, Roadmap to North" is a 1300 m2 picture of the A'dam tower in Amsterdam north, facing the Amsterdam Central Station. Since 2014 he also runs a small book publishing company, named Nova Lux Publishers
Currently Oomen works on a thee picture assignment of perfumier Baruti.
Although Oomen works on assignment occasionally, most of his paintings and drawings are autonomous. Oomen shows his work in the Netherlands and abroad. Works are included in private and corporate collections.
Rombout Oomen, November 2015