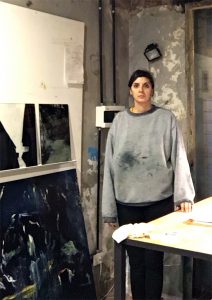 Lives and works in Buenos Aires, Argentina.
I am currently investigating the glass as a support for oil painting. The images that I develop are linked to a vulnerable yet powerful state, to the archetypal, to the depth and primitive. I allow myself to think of fragility as a property that potentially contains a change and link it to the Theory of Irreversible Processes: a fragile, uncertain state, in order to remain in reality, must take an evolutionary leap.
Glass is then, that material that can manifest a metamorphosis and at the same time allows me to evidence a structural resource of the painting, the construction of the image by layers. Fundament of the opaque mirror and also of the transparency that leaves in sight the gesture and the process.
Painted glass -broken paints-, paintings-mirror, images on a material so resistant that, to mutate, can only be broken.
Education / Scholarships
2016. PAC (Contemporary artistic practices) Gachi Prieto. Studies with: Rodrigo Alonso, Rafael Cipollini, Ana Gallardo and Eduardo Stupía. Buenos Aires, Argentina
2015. Systematic training of the drawing. Torquato Di Tella University. Studies with: Eduard Stupía. Buenos Aires, Argentina
2011. Scholarship for artists. Fondo Nacional de las Artes. Buenos Aires, Argentina
2011. Scholarship for specialization in Furniture Design. University of Buenos Aires, Argentina
2010-2014. Workshop / Mentorship: Diana Aisenberg. Buenos Aires, Argentina
2005-2009. Painting Workshop / Mentorship: Silvia Gurfein and Valeria Maculán
2000-2006. Architecture. University of Buenos Aires, Argentina
Solo Exhibitions
2015 "El rayo y la arena" Diagonal gallery. Buenos Aires, Argentina
2013 "Tenemos nubes" Ciclo dos paredes, Centro Cultural de la memoria Haroldo Con3. Buenos Aires, Argentina
Group Exhibitions
2016 "Presentimiento" Ruby gallery. Buenos Aires, Argentina
2016 ArteBA (art fair) Ruby gallery. Buenos Aires, Argentina
2015 "Nuevo coleccionismo" Ruby gallery. Buenos Aires, Argentina
2015 "Plano Pofundo" Studio 104. Buenos Aires, Argentina
2015 "La fuerza débil" Fondo Nacional de las Artes. Buenos Aires, Argentina
2014 "Gira" La Ira de Dios gallery. Buenos Aires, Argentina
2014 "Super sólidos" Diagonal gallery. Buenos Aires, Argentina
2013 Fundación J. F. Klemm. Buenos Aires, Argentina
2012 "Museo Urbano" Hospital Rivadavia. Buenos Aires, Argentina
2011 "Becarios FNA-EcunHi" Galería Argentina. París, France
2011 "Premio Pintura Banco Nación" Centro Cultural Borges
2010 "Over the rainbow" OZ gallery. Buenos Aires, Argentina
2010 "Alegría del hogar" Miau-miau gallery. Buenos Aires, Argentina
2010 "Tigre" Munguau, Centro Cultural Coreano. Buenos Aires, Argentina
2010 "Toda forma de amor" Oz gallery. Buenos Aires, Argentina
Awards & Residencies
2016 Selected work. Banco Central de la República Argentina Award
2015 CURADORA, artist Residency. Santa Fé, Argentina
2013 Selected work. Fundación J. F. Klemm Award
2010 Selected work. Banco Nación Argentina Award
2009 Mention. Casa FOA. Buenos Aires, Argentina
Collective Projects
DIAGONAL. Co-founder and manager of visual art space. 2013. Buenos Aires, Argentina
2014 Mecenazgo Cultural Grant. DIAGONAL Project. Ciudad de Buenos Aires
2014 National Scolarship for Collective Projects. Fondo Nacional de las Artes
2013 National Scolarship for Collective Projects . Fondo Nacional de las Artes
Others
2015-2016 Chief of prac3cal work at University of Buenos Aires – Architectonic Representation, Cátedra Ludovico Jacoby
2006-2014 Profesor at University of Buenos Aires – Architectonic Representation, Cátedra Ludovico Jacoby