Term: July – September 2019
November 2017 – January 2018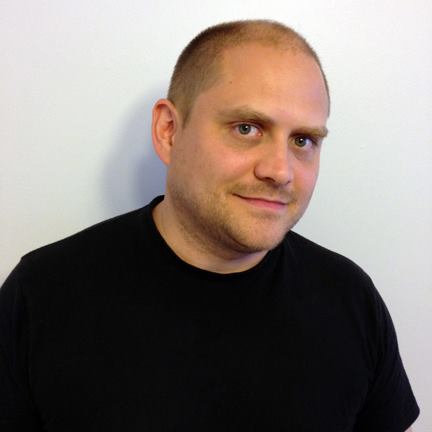 Trevor Kiernander's works rigorously propose a formal examination of the space of painting and drawing. Through the association and collision of multiple perspectives and the deployment of overlapping technical approaches, he explores the basic, fundamental duality between background and foreground, and figure/ground relationships as forms per se.  Kiernander works simultaneously on several canvases positioned together on the same wall and experiments with many configurations, with the aim of unifying the composition in a complex but resolved manner. In so doing, the assemblage of canvases and images are deconstructed and reconstructed, creating contradictory but stimulating and coherently finished works, whose final installation is the result of that research outcome in the studio.
Trevor Kiernander was born in Mississauga, Ontario in 1975 and currently resides in Montreal, Quebec. He has a BFA in Painting & Drawing from Concordia University (with Distinction, 2006) and a Master's degree in Fine Art: Art Practice, from Godsmiths College, University of London (2009). While based in London between 2007 and 2014, he exhibited throughout the UK and participated in several projects and exhibitions in Germany, Russia, the United States, Canada and Morocco. In 2017, Trevor was selected for residences at the Vermont Studio Center and the Leipzig International Art Program in Leipzig, and is a 2018 recipient of a Canada Council for the Arts Concept to Realization grant for solo exhibitions in Canada at the Maison de la culture de NDG (2018) and the Galerie d'art d'Outremont (2019). His works can be found in national and international collections, including the CPOA of the National Museum of Fine Arts of Quebec, Concordia University, Montreal Council for the Arts, Loto-Québec, Mouvement Desjardins, Toronto Dominion Bank and The Université de Sherbrooke.
PROFESSIONAL TRAINING / EDUCATION

2009 MFA, Art Practice—Goldsmiths University of London, London, UK
2006 BFA w/ Distinction, Major Painting & Drawing—Concordia University, Montréal, Canada
2000 Interpretive Illustration Diploma—Sheridan College, Oakville, Canada
SOLO EXHIBITIONS / PROJECTS
2019 Galerie d'art d'Outremont, Montreal, Canada
2018 Maison de la culture NDG, "In Free Fall", Montreal, Canada
2018 Art Mûr, "Bound and Boundless", Berlin, Germany
2017 Maison des arts de Laval (foyer) "Désorientation", Laval, Canada
2016 Art Mûr, "Event Horizon: This Must Be The Place", Montreal, Canada
2016 McClure Gallery,"Event Horizon: This Must Be The Place", Montreal, Canada
2014 Art Mûr, "Uncommon Ground", Montreal, Canada
2013 Vitrine, "Fallen", London, UK
2012 Art Mûr, "Here. Not Here.", Montreal, Canada
2010 The Woodmill, "Project:Space", London, UK
2010 Art Mûr, "To Build A Home", Montreal, Canada
2010 Bearspace, "Trade Skins", London, UK
2007 Art Mûr, "Relative Detachments", Montreal, Canada
2005 La Fabriq, "Form, Fond, Couleur", Montreal, Canada
SELECTED DUO / GROUP EXHIBITIONS
2016 Leonard & Bina Ellen Art Gallery, Sighthings 17, Montréal, Canada
2015 The Wilson, Cheltenham Art Gallery & Museum, The Open West, Cheltenham, UK
2014 HUSK, Teleology, London, UK
2014 L'Blassa, BAB//\\DAR, in collaboration w/ Marrakech Biennale, Marrakech, Morocco
2014 Le 18, Here & Now—Sound Matters, Marrakech, Morocco
2013 St James Hatcham Goldsmiths, Post Post, London, UK
2013 Maria Stenfors Gallery, Endogenous, London, UK
2013 Southbank Centre, My Deptford: 8 Minutes From Here, London, UK
2013 Enclave, Feedback, London, UK
2013 Musée des beaux-arts de Mont-Saint-Hilaire, Héritage de Borduas, Mont-Saint-Hilaire, Canada
2013 Departure Foundation, Satelike, London, UK
2013 CART @ Armory Week: Dream Baby, New York City, USA
2013 Jotta, Battersea Evolution, An Undelivered Postcard From The Edge Of The World, London, UK
2012 Contact, Location Relative, Manchester, UK
2012 Deptford X, Bringing Home The Art, London, UK
2012 Bussey Building, For Display Purposes Only, London, UK
2012 London Art Fair, Art Projects w/ Axis, London, UK
2011 Kunstverein Speyer, So Here We Are, Speyer, Germany
2011 Central House Of Artists, TRANSLATE / TRANSCRIBE, Moscow, Russia
2011 Art Mur, Question De Principe, Matter Of Principle, Montréal, Canada
2011 The Woodmill, S.A.G.S., London, UK
2011 The Woodmill, Nicolas Party: Elephants at the Woodmill, London, UK
2011 38b Peckham Rye, I Have No Use For The Truth, London, UK
2011 Collective Show Los Angeles w/ LA Pedestrians Gallery, Los Angeles, USA
2010 Vulpes Vulpes, Heliotrope, London, UK
2010 ShopAt34, Say What What Way, London, UK
2010 The Woodmill, The Devil's Necktie, London, UK
2009 ShopAt34, soSHOW!, London, UK
2009 Area10, Groupe/Grope, London, UK
2009 James Taylor Gallery, Notes From The Underground, London, UK
2009 Grace & Clark Fyfe Gallery, How to Manage When Everything's a Priority, Glasgow, UK
2008  Lewisham Art House, New Cross Art Prize Exhibition, London, UK
2008  Tender Pixel Gallery, New Paintings w/ Sungyeon Park, London, UK
2007  FOFA Gallery, Stanley Mills Purchase Prize Exhibition, Montréal, Canada
2006  Parisian Laundry Collection I, Montréal, Canada
2006  AWOL Gallery Square Foot, Toronto, UK
2006  Leonard & Bina Ellen Gallery, The Only Way Out Is In, Montréal, Canada
ART FAIRS
2018 Art Toronto, Toronto, Canada
2018 Drawing Now, Paris, France
2018 Papier, Montréal, Canada
2017 Papier, Montréal, Canada
2016 Art Toronto, Toronto, Canada
2016 Papier, Montréal, Canada
2015 Art Toronto, Toronto, Canada
2015 Papier, Montréal, Canada
2014 Art Toronto, Toronto, Canada
2014 Papier, Montréal, Canada
2013 CART @ Armory Week: Dream Baby, New York City, USA
2013 Jotta, Battersea Evolution, An Undelivered Postcard From The Edge Of The World, London, UK
2012 London Art Fair, Art Projects w/ Axis, London, UK
2011 Central House Of Artists, TRANSLATE / TRANSCRIBE, Moscow, Russia
2010 Art Toronto, Toronto, Canada
2008 Art Toronto, Toronto, Canada
COLLECTIONS
CPOA du Musée national des beaux-arts du Québec
Borden Ladner Gervais LLP
Collection Luc LaRochelle
Concordia University
Conseil des arts de Montréal
Courchesne Larose Ltd
EROS
FIFA (Festival International du Film sur l'Art)
Loto-Québec
Mouvement Desjardins
Orford Centre for the Arts
Parisian Laundry
Stanley Mills Collection
TCGO Inc.
Tilquin Collection
Toronto Dominion Bank
Université de Sherbrooke
Various private collections in Canada, USA, UK, Russia and Europe
BIBLIOGRAPHY
• Michael Valinsky, "Visual Interview," The Wild Magazine, 21 August 2014
• Crystal Bennes, "Trevor Kiernander," The Learned Pig, 27 November 2013 • Susie Pentelow, "A Conversation with Canadian Artist Trevor Kiernander," Traction Magazine, 6 November 2013
• "Trevor Kiernander. Fallen: A conversation with the Canadian artist Trevor Kiernander," Wall Street International, 23 March 2013
• "Art Moscow 2011: A Round Up" (video), Huffington Post, 21 October 2011
• Jerome Delgado, "Arts visuels—De l'intime jusqu'à la peinture extreme," Le Devoir (Montréal), 31 December 2010
• Christian Roy, "TREVOR KIERNANDER: La construction d'un monde pictural," Vie des Arts (Canada) 219 (Summer 2010)
• Lori Callaghan, "Roots Of Home Reveal Where The Heart Lives," Montréal Gazette, 12 June 2010
• Jerome Delgado, "Le chaos raffiné de Kiernander," Le Devoir (Montréal), 5 June 2010 • Goldsmiths—But Is It Art (documentary), dir. Magnus Temple and Emma Tutty, Dragonfly and BBC Four, April 2010
• Susan Holtham, "Setting Up Art-Shop With soShow!," Dazed Digital, London, December 2009
• "Gold & Delicious," MESCALINA.IT: Rivista on-line di Arte e Cultura, February 2008
• di Francesca Cavazzana, "Gold & Delicious," archimagazine, February 2008
• Christine Redfern, "A Stroke of Art," Montréal Mirror, August 2007
PUBLICATIONS
Stephanie Locas and R. Travis, "Event Horizon: This Must be the Place", Art Mûr, Montréal, Sept 2016
Benjamin Klein and R. Travis, "Event Horizon: This Must be the Place", McClure, Montréal, Sept 2016
Tom Trevatt and C. Barnabe, "Uncommon Ground," Art Mûr, Montréal, September 2014
Michael Heilgemeir, "The Nomadic Studio," Edition Taube, London, March 2013
Dominique Allard, "Trevor Kiernander: Here. Not Here.", Art Mûr, Montréal, April 2012
Cameron Skene, "Meditations In An Emergency," Art Mûr, Montréal, April 2012
Ian Gonczarow, "Translate/Transcribe," Central House of Artists, Moscow, September 2011
Sandra Erbahcer, "So Here We Are," Kunstverein Speyer, Germany, September 2011
Catherine Barnabe and S. Wilkinson, "To Build A Home," Art Mûr, Montréal, May 2010
Carte Blanche 2, Painting Magenta Foundation, November 2008
Lyne Crevier and Katey Apsey, "Relative Detachements," Art Mûr, Montréal, July 2007
RESIDENCIES, AWARDS & DISTINCTIONS
2018 Canada Council for the Arts, Concept to Realization Grant, Canada
2017 LIA Leipzig International Artist Programme Residency, Leipzig Germany
2017 Vermont Studio Centre Residency, Vermont, USA
2017 Merit-based Artist Grant ($1700USD) Vermont Studio Centre Residency, Vermont, USA
2014 MINT Collective Residency, Riad Biba, Marrakech, Morocco
2013 PEER Residency w/ Merike Estna, London, UK
2010 John Moores Contemporary Painting 2010 (short list), London, UK
2010 Bloomberg New Contemporaries 2010 (short list), London, UK
2010 Woodmill Travel Grant, London, UK
2007 RBC Painting Competition (short list): Eastern Division, Canada

RELATED PROFESSIONAL EXPERIENCE, TEACHING, ARTIST TALKS
2016 Artist Talk, McClure Gallery, Montréal, Canada
2016 External Examiner, BFA Drawing, Concordia University, Montréal, Canada
2016 In-Course Lecture/Artist Talk, Concordia University, Montréal, Canada
2015 In-Course Lecture/Artist Talk, Concordia University, Montréal, Canada
2012 Visiting Tutor BA Fine Art, British Higher School of Art & Design, Moscow, Russia
2012 Artist Talk, British Higher School of Art & Design, Moscow, Russia
2009 Co-director, ShopAt34, London, UK