Term: December 2019 – February 2020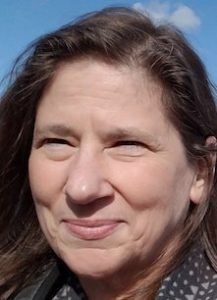 Influences on my art imagination include mathematics and science and nature, and the drive to communicate, describe, record. I have worked the longest time in non-representational watercolor painting, and in drawing.
The project I will do in Leipzig is an Image and Interview series, with photo portraits and interviews of Leipzig people.
The series includes portrait photography accompanied by a printed text, edited from an interview with the subject, using my own fixed set of questions. This work is appealing to me because I am deeply interested in people, how I see them, how they see themselves.
I am generating a rich impression of the person at that time, and in that context with me. I am fortunate in coming into contact with many interesting people of all sorts of life situations. I have a series of 9 portraits and interviews done in the US, and a series of 17 portraits and interviews, done in Iceland, and a group of 29, from Shetland.
In this work, I am moved by a desire to know, preserve, and present, interesting human beings whom I am in contact with, in my life era. The concept for a photographic record of my contemporaries was partially inspired by the work of Felix Nadar. The interview questions were created by me.
In painting, I feel comfortable and free working in watercolor because it requires me to decide and act, and does not allow me to plan and re-do. My natural 'logical' thinking tendency is toward complexity, thinking and re-thinking; examining, editing, perpetual refinement. In watercolor, my work process is quite different – I am forced to commit, and go ahead. In this medium, I work more freely and confidently, without the intermediation of my intention, logic, analysis, etc.
Also I have made some word-paintings which include written word, surrounded by responsive painting. My word-paintings are done when my thoughts about the work going onto the paper are rushing out in words, before color, so I record the words for that work, and then paint to illustrate or support them. They are sometimes created in response to grief, tragedy, or confusion.
The themes in my painting practice deal on a basic level with connection, relation, isolation, distance. The colors and forms resolve or enact forces and fitting connections. There is often a thought of composing a delicate balance between the parts of the image as they are accruing on the paper.
Additionally, I do black and white small drawing constructions, primarily when I am away from the studio.
Selected Exhibits
SoWa Boston, First Fridays in shared studio #213 – 2016-present
Gimme Shelter – Brickbottom – 2018
Image and Interview – Íslendingar – SÍM Gallery, Reykjavík – 2017
Eyes On: Nature || Urban Landscape – Riverside Gallery – 2016
Melt – Brickbottom – 2016
Image & Interview, in: Portraits in 6 Media – Riverside Gallery – 2015
Vernon Street Open Studios – 2009-present
Jamaica Plain Open Studios – Jamaica Plain MA – 2008
Beacon Hill Art Walk – Boston – 2006, 2007
South End Open Studios – (juried) – Boston 2005, 2006
Brickbottom Artists Association Open Studios – Somerville MA – 2002-present
SoWa ArtWalk – Boston – 2005, 2006, 2009, 2017-present
Fountain Street Open Studios – Framingham MA – 2004, 2005
Fuller Museum of Art – juried members show – Brockton MA – 2004
Danforth Museum Store – exhibit and sale – Framingham MA – 2003-2005
Sidney-Pacific Fall Festival, MIT – Cambridge MA – 2003
Under the Influence – Brickbottom – group show – 2003
Sumter Gallery for the Arts – Artists Shop – Sumter SC – 2002-2008
Gutman Library, Harvard University – group show of own work and of collaborative work – 2000 § 1369 Coffee House – group show – Cambridge MA – 1999
Cambridge Artists Open Studios – Cambridge MA – 1996-present
Stratus Computer – group show – Marlboro MA – 1995
Middle East Restaurant – solo exhibit – Cambridge MA – 1994
Harbor Gallery, University of Massachusetts – 8 pieces in juried exhibit – Boston – 1992
Positions/memberships– selected
Riverside Gallery – Cambridge MA (Founder, Director; 2009-present)
Received 10k grant to support my work as director – NLT Foundation (2014)
Vernon Street Artists – Somerville MA (Manage group studio)
Brickbottom Artists Association – Somerville MA (Non-resident member)
Cambridge Arts Marketing Network – Cambridge MA
Cambridge Open Studios – Cambridge MA (Hosted guest artist site)
Cambridgeport Artists Open Studios (CAOS) – Cambridge MA (past) (Co-chair; steering committee; publicity committee)
Fountain Street Studios – Framingham MA (past)
APT Artists Peer Group – Boston MA (past)
Fuller Museum Artists Circle – Brockton MA (past) (vice-pres.; treas; Introduced peer portfolio review)
United South End Artists – Boston MA (past)
Curatorial/Gallerist/Directorial
Curator – African American Artists – Passion for a Lifetime – Brickbottom Gallery– Jan-Feb 2021
Founder, Director of Riverside Gallery – Cambridge MA 2009 – 2016       Conceived, developed, and implemented exceptional innovative programming of exhibitions Worked with guest curators for group exhibitions of art associations & studio collectives to produce exhibits: (selected) Turtle Studios, Artists Professional Toolbox, NEATA, Boston Comic Roundtable
Residencies
Icelandic Artists Association (SÍM) – Image and Interview project – May 2017, Reykjavík
Self-residency – Image and Interview project – August 2019, Shetland Islands
Leipzig International Art Programs – Image and Interview project – December 2019-Feb2020, Leipzig
Memberships
APT Artists Peer Group – Boston MA (past)
Brickbottom Artists Association – Somerville MA
Cambridge Arts Marketing Network – Cambridge MA
Cambridge Artists Association – Cambridge MA
Cambridge Open Studios – Cambridge MA
Cambridgeport Artists Open Studios (CAOS) – Cambridge MA (past)
Fountain Street Studios – Framingham MA (past)
Fuller Museum Artists Circle – Brockton MA (past)
Riverside Arts Group artists collective – Cambridge MA
SÍM resident artist – Samband íslenskra myndlistarmanna – Reykjavík 2017
Studio 213, SoWa – Boston, MA
United South End Artists – Boston MA
Vernon Street Artists – Somerville MA
Education
Middlesex Community College Certificate, System Software Technical Writing Bedford, MA 1994
University of Massachusetts, Boston BA, English BA, Anthropology (language and culture track) Concentrations: East Asian Studies, Linguistics, 1992
Honors and Awards
Graduated Summa Cum Laude; East Asian Studies Student of the Year; Sally M. Goss Prize in Anthropology