The Goethe-Institut's NORDIC LEIPZIG exchange project started in November 2018 and has since then brought 13 artists as guests to the Spinnerei Leipzig
NORDIC LEIPZIG is a project by the Goethe-Institut Denmark,  together with the Goethe Institutes of the Nordic countries, in cooperation with LIA – Leipzig International Art program and Vlado & Maria Ondrej – Atelier für zeitgenössische Radierung.
In 2018/2019, the Goethe-Institut Denmark, in cooperation with the LIA Leipzig International Art Program, organized an extensive scholarship program for artists from the northern European countries Denmark, Finland, Iceland, Norway and Sweden. The scholarship includes a three-month stay in the LIA and a one-time payment of € 500 for travel expenses and material as well as participation in a group exhibition during one of the tours of the SpinnereiGalleries Leipzig. In addition, all scholarship holders were given the opportunity to print an etching theme at Vlado and Maria Ondrej's etching workshop. All etchings became part of a common NORDIC LEIPZIG print edition and  will be presented as a traveling exhibition in the northern European countries in 2020.
Video documentation about NORDIC LEIPZIG – click to watch >>>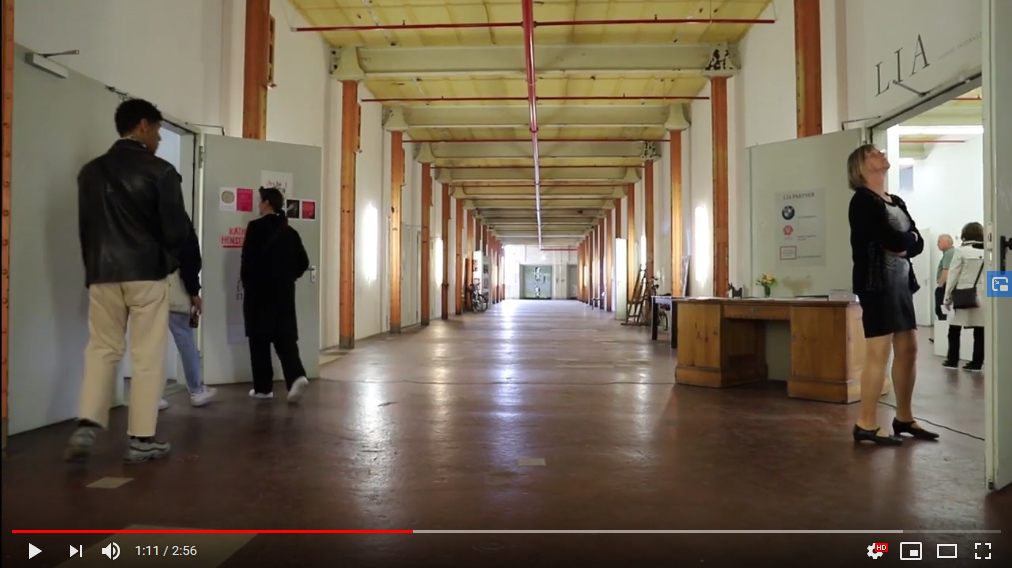 Following eleven artists received the NORDIC LEIPZIG Scholarship, including one separate project funding:
Round 1: November 2018 – January 2019
Maja Gade Christensen (Denmark)
Vibeke Frost Andersen (Norway)
Tanja Koljonen (Finland)

Round 2: February – April 2019
Tuukka Haapakorpi (Finland)
Conny Karlsson Lundgren (Sweden)
Bjargey Ólafsdóttir (Iceland)

Project Funding: May  – June 2019
Michelle Eistrup (Denmark)
Round 3: August – October 2019
Round 1: November 2018 – January 2019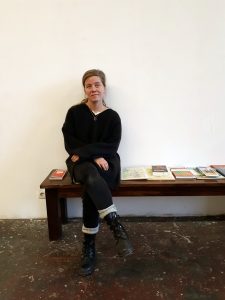 Norwegian artist Vibeke Frost Andersen's practice revolves around the topic of landscape. How is the landscape (re)produced and (re)presented, and what traces can be found in it of political and economical processes? She uses publicly available datas and documents together with field inquires as both source and material for her investigations. The process and outcome varies – outdoor interventions, lens-based representations, text and talks – as attempts to engage with the public realm. In Leipzig, she devoted herself to the subject of Leipzig's New Lake District, combined with the question of how the massive redesign of the former lignite mines affected people's lives.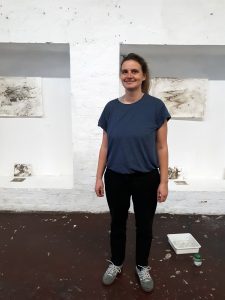 The danish artist Maja Gade Christensen works with mapping of landscape by collecting samples of sediments, which are as material in sculptures, paintings and prints. Here, water is a powerful force of erosion, recreation of landscapes and the movement of materials. These sediments are used as material for sculptures, paintings and prints. Water is an important factor influencing erosion, the reformation of landscapes or the movement of matter and therefore included by the artist. Patterns and structures of soil and water and their traces, which remain behind, are fixed and thus made visible. In Leipzig she explored the Elster, Pleisse, Luppe and Parthe rivers and used the sediment samples collected there for her artistic project.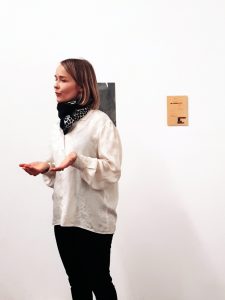 Tanja Koljonen's work occupies largely an intermediate ground between the textual and the visual, a place where the boundaries of images are in constant flux. Her work often asks: what will reality be based on if stories are broken? How uncertain and fluid are the statements we encounter in what we read, see and hear? The gestures of concealment, deletion and rearrangement of the Finish artist have the effect of undermining literal interpretations and linear readability. Images and words disintegrate, a sentence is not enough for an idea. Tanja extended her stay in Leipzig by several months and devoted herself intensively to the production of artist books and the production of several printed graphics. She was invited to present recent works and her artist book as part of a group exhibition in the project gallery Shebam! Leipzig, directed by Laetitia Gorsy.
Round 2: February 2019 – April 2019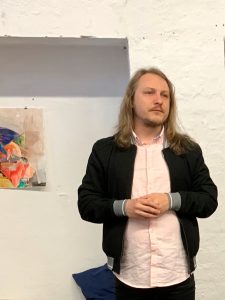 The Finnish interdisciplinary artist Tuukka Haapakorpi works in the fields of fine arts, sound, music and game design. During his residency in Leipzig, Tuukka worked on the development of a complex book project that uses the principle of text-based role-playing games and fundamentally raises the question of how reality and human identity can be thought or designed alternatively. It also brings up and questions the visionary potential of increasing digitization in the analog world of human life. For this purpose. For his project, Tuukka combined scientific research, drawing and print art, the latter produced in collaboration with the Atelier für Radierung Leipzig.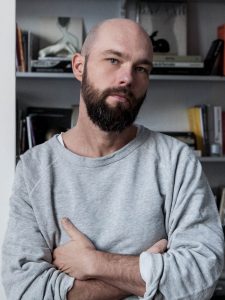 Conny Karlsson Lundgren is a visual artist currently based in Stockholm. He is fascinated by the ephemeral, seemingly temporary traces and moments that together form a larger context. During Karlsson Lundgren's residency in LIA he was working on a chapter of "The Johanna Series", an ongoing project in dialogue with the Leipzig-born and NYC-deceased composer Johanna M. Beyer (1888–1944), focussing on the final movement of her unrealized visionary political opera "Status Quo" from 1938. In close collaboration with the conductor and pianist Christian Hornef and supported by the Oper Leipzig, he created an interpretation and unfolded the final movement "Status Quo: Dance (for a full Orchestra)"– to remember in order to renew, merged to a poetic installation, including film and various historic as well as handmade objects.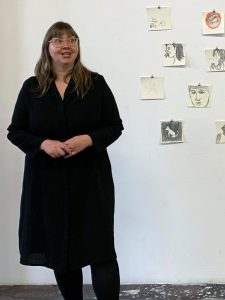 Bjargey Olafsdottir lives and works in Reykjavík. Her art is not confined to a single medium as each of her concepts calls for a different tool: photography, film, sound art, performance and drawing. Inspired by pop culture and memory, her artwork is poetic yet humorous and playful, dealing with human relationships. Play, experimentation and chance within a set of rules fuelled by curiosity are a vital part of her practice. Bjargey Ólafsdóttir's works play with our preconceptions about what we see, about the mediums of film and photography, questioning what is real and what is fiction. In Leipzig, Bjargey concentrated on a series of drawings and paintings that discover the hidden animal nature inside the human or, with other words, the bond of men and nature, assembling her images with text fragements that range from narrative quotes to poilitical statements.
Project Funding – May/June 2019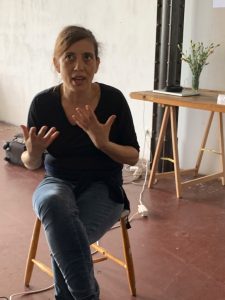 Michelle Eistrup is a visual artist, arts producer and instigator of artistic collaboration who lives in Copenhagen, Denmark. Michelle's art incorporates themes of identity, corporeality, faith, memory and post-colonialism, where her transnational background (Danish, Jamaican, American) is sometimes a point of departure. Currently, Eistrup is working on a film, Natango Zuzu (All Suns Forever). This piece reunites artefacts of African culture and spirituality to stories and people in southern United States, and to the Kingdom of Kongo/Angola. The connection of these objects aims to both unite different environments and make the hidden meanings latent more visible. During her residency in LIA, Michelle could document some of the so-called Nkisis, artefacts from Kongo, that belong to the collection of the Leipzig based GRASSI Museum for Ethnology. These documentations Michelle includes into her film Natango Zuzu. She also held two public talks about her work, one during the LIA Spring Group Show and one in the Spinnerei based LURU cinema, togehter with the Director of the GRASSI Museum, Léontine Meijer-van Mensch.
Round 3: August 2019 – October 2019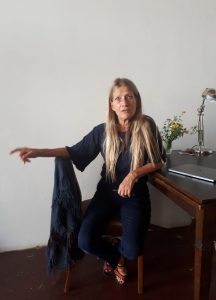 Born and living in Sweden, Elisabeth Moritz worked in Leipzig in May and August 2019. She continued to develope one of her long-term projects, dealing with the background of her German-originated family. This project deals primarily with the time in Germany before and during the Second World War and with the existing parallels to the growing xenophobia and nationalism in today's Europe. Besides including her personal family photographies into the work, she also departs from her own family story, taking a look at the bystanders, not the perpetrators or victims, but all those men and women who did not have the courage to protest or who let themselves get influenced by the ruling discourse. During her time in Leipzig, Elisabeth developed two etchings, in combination with drawings called "Motherland" and "Fatherland", as a reflection of her own family history and as an ambivalent self-location of a person with migrant-background.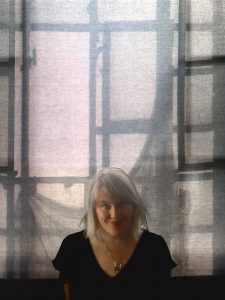 Gunnhildur Hauksdóttir is an Icelandic visual artist who lives and works in Reykjavik and Berlin. In her work, siedi combines audio, video, performance, sculpture, drawing and text to create transient conceptual constructions that examine topics such as cultural identity, nature or courage and fear. Her artistic work is often fueled by concerns about the the devastation of the natural world, destruction of habitat and rapid extinction of non-human species and earth beings. In Leipzig, she continued her ongoing research project "Borderline Human", which she developed in collaboration with the Lichen Lab in the USA and the Barrett-Henzi Lab in Canada. Gunnhildur examines and animates the boundary between humans and non-humans, especially apes, via multimedia, including drawing, print art, interactive new media channels as well as performance.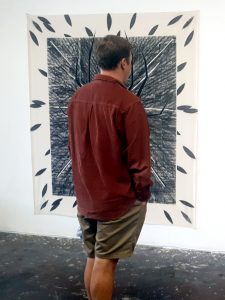 Martin Stråhle was born in Sweden and is currently living in Trondheim, Norway. In his work, Martin focuses on approaching painting in a new way: finding a new perspective in the work on an image is often the starting point of his process. This happens by either using different materials or by changing the performative process while working on a two-dimensional image. In this way, he explores the relationship between painting and other media such as textiles, sculpture and performance. His aim is to challenge his own thoughts about what painting can be and how far he can go, while at the same time adhering to the principle of creating a two-dimensional image. In Leipzig, Martin Stråhle concentrated on the medium of charcoal and created numerous large-format works on canvas, in which he combines observation and exploration of the new environment, dreams, graphics and ornamental structures.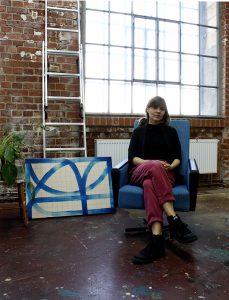 Anna Taina-Nielsen lives and works in Copenhagen. In her art practice she investigates the subject of performative painting, by documenting the gestures and activity of the painting process through photograph or film. She is inspired by the routines and rhythms used in e.g. manual labor, and she derives the notion of repetitive physical work into her painting process and uses her own body as a tool or a machine to execute the repetitive work within a strict set of rules. By documenting the painting process she questions what the work is; is it the process, the act of doing, the documentation of the process or is the work the result of the painting? In Leipzig Anna has been working on large scale paintings, investigating, how a painting can be activated, and how the painting process can be revealed to the viewer as a tool to decode the painting. In her video documentation she questions if the painting can be viewed not only as a static painting but also an active painting, and she investigates the notions of how a painting is made and when it is finished.
Review to the NORDIC LEIPZIG year 2019
In addition to individual work in the living studios, there were various activities in which the LIA artists could take part. Whether excursions in the city of Leipzig, visits to various art and cultural institutions, meetings with other artists, trips to interesting places in the region or monthly visits by a guest critic in the ateliers – the LIA program is intended to give the artists the opportunity for insights, exchange with and offer inspiration through Leipzig's culture. One focus in 2019 was on the printing tradition in Leipzig, which is still very much alive today in the visual arts. An important item on the program of the artist's residence are the group exhibitions in the LIA rooms, which attract many hundreds of visitors during the tours of the SpinnereiGalerien and are a special opportunity for the presentation of the resulting works and discussions with an art-interested audience.
A very special highlight in 2019 was the visit of Federal President Frank-Walter Steinmeier and his wife Elke Büdenbender to the Leipzig spinning mill and the LIA. Together with the Mayor of Leipzig, Burkhard Jung, his wife and child, as well as the managing director of the Leipzig spinning mill, Bertram Schultze and the two spinning artists Christiane Baumgartner and Michael Triegel, the Federal President visited the studios of the LIA artists and invited to a joint discussion about the experiences of the international guests in Leipzig and Germany.
We would like to thank all the artists of the NORDIC LEIPZIG exchange for the exciting and enriching collaboration as well as all supporters of the project, especially Bettina Senff, director of the Goethe-Institut Denmark for her initiative and support. We would also like to thank Martin Bach (Goethe Institute Norway), Isabel Hölzl (Goethe Institute Finland), Jeannette Treffzer and Miriam Arndts (Goethe Institute Denmark) and Arpad Sölter (Goethe Institute Sweden). Special thanks go to Maria Ondrej and the Atelier für zeitgenössische Radierung Leipzig for her wonderful support for the artists and their etching projects.