Term: June-August 2021
Christina Papakyriakou is a Visual Artist focusing on painting and drawing.
In the context of her postgraduate research "Drawing as A Verb" she drew and studied movement maps as a result of body interaction within a live drawing action. In recent years she has been active in art performance, on the technique of miksáz and experimental video.
Her research interest is focused on the contemporary human and the way it acts, defines and creates in modern western societies.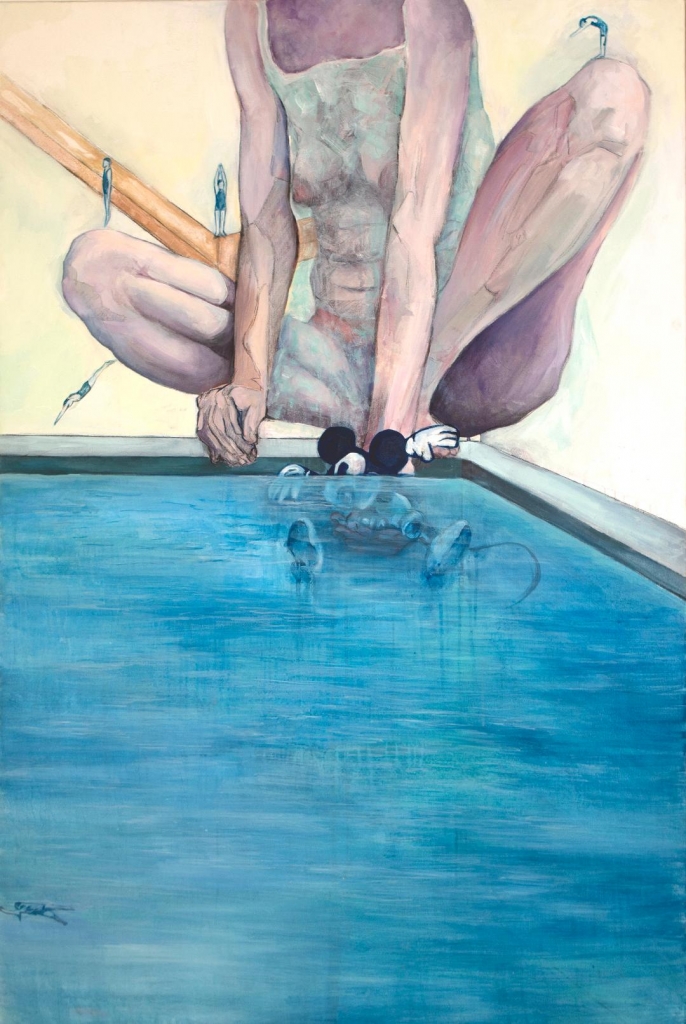 Solo Exhibitions
2016: Tag studio Limassol – Cyprus "wonderings of the (un)conscious mind"
2015: Όαση space for visual experimantations "Drawing as a verb"
2010: Palio ksithadiko – Limassol Cyprus"Drawing performance"
2008: Ruan Gallery– Limassol Cyprus "The Keyhole"
2007: Gallery Diatopos – Nicosia Cyprus
2005: Pantheon Gallery – Nicosia Cyprus
2003: Gallery Kypriaki Gonia –Larnaca Cyprus
Group Exhibitions
2018: Larnaca Biennale
2015: "The Drawing room" Ruan Gallery
2012: A series of Paradox Episodes: episode1: The Local Search – Konteiner Limassol Cyprus
2010:
"No-Body" performance festival, Nicosia Cyprus
2nd Experimental Film Festival Strange Screen at Center of Performing Arts MITOS Limassol Cyprus
2009:
"Red Crosse" Ruan Gallery
"Salad Bowl" Helsinki Finland
"Common Site Come Inside" Utrecht The Netherlands
"Blauwe Huis" workshop – Amsterdam
2008:
Animal Estate" Cassco Callery Utrecht The Netherlands
"SIM Residency" SIM Gallery Reykjavik Iceland
Rosl Art Show,Royal Over-Seas League – London -UK
2007:
Selected to participate in the Biennale of Young Artists from Europe and the Mediterranean
"Anonymous Drawing Show Berlin" Berlin Germany
"All Women 4 you" Art Studio 55 Pegasus Art Foundation Limassol Cyprus
2006:
"Breaking the Mould" Helsinki Finland
"Cyprus participation at the Beijing Biennale" Rouan Gallery Limassol Cyprus
"Group exhibition" Rouan Gallery Limassol Cyprus
2005:
Participation of the 2nd Beijing Biennale, Beijing China
"Mine Art" Limassol
2004:
Young Women Artist at Keravan Museum, Helsinki Finland
Engraving exhibition, Limassol Cyprus
Represented Cyprus in the United Body Bear exhibition of the symbol of Berlin.
"Prepare your luggage" Nicosia Cyprus
2003:
Participation of the 22nd Biennale of Alexandrian Egypt
Group exhibition Macedonia Museum of Contemporary Art, Thessalonica Greece
2002: Participation of the 2nd of the school of Fine Arts Heraklion Crete
Performances:
2014:
"O Pano kai o Kato"
Performers: Rodoula Gouliambery ,Christina Papakyriakou , Christos Kissas.
12&13 September "the yard residency"(Old vinegar factory Limassol)
2015:
"Visual and oral stories"
Dimitris Spyrou (music) & Christina Papakyriakou (live drawings)
5&6 May "the yard residency"(Old vinegar factory Limassol)/8 May (Ananas 8 bit Paphos) /15 May (Windcraft music center Nicosia)
"Eros Praksi Proti"
Performers: Rodoula Gouliambery and Christina Papakyriakou
Art director: Julia Georgiadou
Music: Tasos Kokinidis
19&20 September (WE Thessalonika)
2016:
"Eros Praksi Proti"
Performers: Rodoula Gouliambery and Christina Papakyriakou
Art director: Julia Georgiadou
Music: Tasos Kokinidis
10-12 June (kakogianis Theater Athens ,Greece)
"Visual and Oral stories Part 3"
Performers: Christina Papakyriakou, Julia Georgiadou Live Visuals
Music – Performance: Dimidtris Spyrou
26 June (Nicosia, Cyprus)
2018:
"σημείωση εν-όρασης"
Performers: Christina Papakyriakou, Julia Georgiadou,Costantina Peter
Msic – Performanceu: Dimidtris Spyrou
Dramaturgy: Costantina Peter
"artist – artist too" choreography by Eleana Ioannou"
(Limassol Open House Festival)
"εστια-ζω": performance/mixaze by Christina Papakyriakou ("the yeartresidency programe" 30.11.18 at Palio ksidadiko – Limassol)
2019:
IVAC Images and Views of Alternative Cinema (18 – 24.02.2019 Nicosia Cyprus)
"Voicemail" visual performing with choreographer Melina Sofokleous at 19th Cyprus Choreography Platform at Rialto Theater Limassol Cyprus
Dance waves festival 2019 ( 9-10.11.19 Nicosia Cyprus)
ResidRencies Programs:
2004: DAAD Program Berlin Germany
2007: Hospitalfield / Aberdeen – Scotland
2008: SIM Reykjavik Iceland
2021: outgoing residence at LIA -Leipzig International art programme