A total of four fellows from Indonesia, the Philippines, Singapore and Vietnam were selected for a three-month stay in LIA
For the second time, the Goethe-Institut and LIA Leipzig International Art Programme organised a scholarship for artists from the Pacific region, this time for the countries of Indonesia, the Philippines, Singapore and Vietnam. We thank all participating artists for the great interest in the Pacific-Leipzig call with over 200 applications.
We are pleased to announce the winners of the Goethe-Institut Pacific-Leipzig scholarship for the period November 2020 to January 2021:
Haryo Hutomo – Indonesia

Cris Mora – Philippines

Jevon Chandra – Singapore

Nguyen Thi Thanh Mai – Vietnam

Harit Srikhao – Thailand
Many thanks to all cooperation partners of the Goethe-Institut:
Wilfried Eckstein (Goethe-Institut Vietnam)
Ingo Schöningh (Goethe-Institut Indonesia)
Angela Sonico (Goethe-Institut Philippines)
Han-Song Hiltmann (Goethe-Institut Singapore)
Many thanks also to our jury members:
Manon Bursian (Director of the Saxony-Anhalt Art Foundation)
Ludwig Koehne (Director, Kirowwerk / Kirow Ardelt GmbH Leipzig)
Veronika Radulovic (Artist and curator, Berlin)
Julia Schäfer (Curator, Museum for contemporary art, GfzK Leipzig)
Silke Wagler (Art historian, Head of the Dresden State Art Collections Fund)
The scholarship includes a three-month stay in the LIA and a monthly payment of € 1000 as well as the payment of travel expenses. All scholarship holders also have the opportunity to create a print graphic in the artist workshop Vlado & Maria Ondrej – Atelier for contemporary etching, which will become part of a print edition and will be shown as an international traveling exhibition.
About the artists:
Indonesien – Haryo Hutomo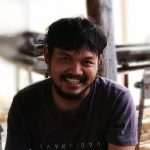 Mohamad Haryo Hutomo (born 1990 in Jakarta) lives and works between Jakarta and Yogyakarta, Indonesia. Graduated from arts pedagogic (B.Ed) State University of Jakarta, Haryo is an artist-organisator who working interdisciplinary, based on the context of time and space are his efforts to conduct critical engagements and manifesta new conceptual, theoretical, methodological, and translational innovations that integrate and move beyond discipline- specific approaches to address acommon problem. His practice focuses on principle: how art engage with the praxis of life. He try to not only reflect on the tremendous impact of artistic practices on social and natural environments in Indonesia and world wide, bu the also trying to provide scenarios for alternative ways of dealing with these environments. His work already presented-collaborated-cooperated nationally and internationally, such a Indonesia, Malaysia, Thailand, China, Japan, Azerbaijan, Australia, New Zealand, Dominican Republic, India, Korea, Italy, Israel, Norway, Switzerland, etc.
---
Cris Mora – The Philippines
Cris Mora (born 1984 in Manila) is a Filipino-Canadian artist and cultural worker. He was born in Manila in 1984 and moved to Toronto at the ageof four. Mora studied painting, drawing, printmaking and photography at the University of Western Ontario in Canada. In addition to his art practice, Mora is also an experienced cultural worker. He has worked as a registrar for Newzones Gallery, a commercial gallery in Canada; the exhibition designer for the Singapore Tyler Print Institute; and as an estimator for Momart, a London based Art-Logistics Company. Mora has exhibited in Canada, Singapore and the Philippines.
He currently lives and works in Manila, where he went on a personal as well as cultural research to explore the "Filipino experience" and learn to understand why his parents emigrated to Canada from there.  His research is also about understanding the "collective trauma" of many Filippinos, who are confronted with problems such as corruption, state violence and urban decline, which is an important reason for the exodus from the country. Cris Mora mainly uses found materials in his work, which are often charged with socio-political importance. In addition to the topic of the "Filipino experience", he deals with hybrid identities, reflecting his own multicultural background, which also has German roots: his grandfather named Fritz Falek once emigrated to the Philippines and married a local there. Cris hopes to develop an understanding of German material culture. He plans to merge Filipino and German objects, textiles and detritus  into sculptures, assemblages and installations as a way to giving form to his genealogical research and this exploration of hybridity.
---
Jevon Chandra – Singapore
Jevon Chandra (born 1991 in Singapore) is an artist, sound designer, and cultural worker. Drawing inspiration from therapeutic and peer counselling approaches, his art practice estimates the (mis)translations that occur between thought, theory, and praxis, as sometimes seen in acts of caring, meaning-making, and holding faith. As a cultural worker, his time is divided between leading community-oriented activities, crafting outreach programs, and designing booklets for art-going audiences. Part of socially-engaged arts collective Brack, his preoccupations also unfold in the form workshops and public interventions, seeking to outline an ethics of congregation, polytemporality, and other-centredness. In Leipzig, Jevon Chandra wants to concentrate on his project "Be Still, My Soul", which deals with faith, crisis and meaning and refers to the German hymn "Silence, my will, your Jesus helps win", which for Jevon is of personal importance. The exploration of the German church music tradition and the special role of the church in the GDR are of special interest in this project, as are Jevon's fundamental questions: What forms belief? What do we worship? How do we practice faith, religious or otherwise – indeed, what is praxis?
---
Nguyen Thi Thnh Mai – Vietnam
The work of Vietnamese artist Ngyuen Thi Thanh Mai (born 1983 in Ha Tai/Hanoi, lives and works in Hue, Vietnam) explores cultural and sexual identity and addresses issues of origin, belonging and migration. In Hue most people still live in a traditional way. Women have to fit in the traditional housewife stereotype of being obedient, soft-spoken, gentle, and faithful. Sexuality is a taboo subject in this society. At school and at home, there is very limited sex education, which means that girls especially are left to discover their own body alone. All that social pressure creates in many women an irrational sense of fear and discomfort towards our body. Many women of my generation share the same sentiments. It is still a challenge for us to speak openly about our fears and desires.  Nguyen's works, particularly her many installations that make use of a variety of media, show a consistent concern with the taboo issues of sexuality and femininity and with the relationship between body, memory and violence.  Recently, she had also turned her attention to other, broader concerns, including migration and national identity. Yet the notion of struggle and an attention to the difficult and oppressed feelings remains central to her practice.
 More information about Nguyen Thi Thanh Mai >>>
Harit Srikhao – Thailand
Harit Srikhao started taking photos when he was very young age, he was selected to attend the Angkor Photo Workshop with Magnum photographer. When he was in high school. After coming back to Thailand, he started his first series, by returning to the route that he got lost in the night of the military crackdown in 2010. He had his first solo show in Bangkok when he was only 19 years old. Furthermore, he won several awards, including the winner of Young Portfolio of Invisible Photographer Asia, Young Thai artist Awards, The Second Prize of Gomma grant and Foam Talents 2017. His first book which published by Akina was nominated for ICP's Infinity Awards. After he completed his Master in Photography and Visual Design in Milan and internship in Berlin. He returned to Bangkok.
More information about Harit Srikhao >>>
Pacific-Leipzig is a cooperation project with: