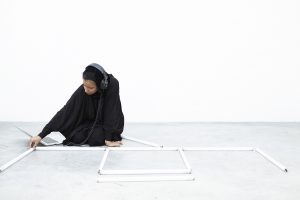 Sponsored by / in Cooperation with:
Raiya al Rawahi is a self-taught conceptional artist who works primarily with sound. She began experimenting with sound and making audible Art while doing her master's degree in Italy. Her work is influenced by philosophy and Art history juxtaposed with the mundane details of everyday life. The Artist is always searching for meaning, questioning different aspects of existence and challenging norms of societal Standards, beliefs and conventions.
She received the 2015 Stal Prize for Young emerging Artist for an Installation titled "Questioning Religion" and will have her first Solo Show in the Last Quarter of 2016.
Education
2013 Graduation with a Master in Fashion Brand Management
2011 studied Fashion Design at Polimoda in Venice (IT)
2004-08 Bachelor of Science in Computer Engineering
2004 Graduation from School
Work, Exhibitions and Prizes
2016 Participation in the "Loud Art" Exhibition at Bait Al Zubair Museum with an Installation titled "Habitat" (OM)
2015 Grand Prize Winner of the 2015 Stal Prize for Young Emerging Artist for the Installation "Questioning Religion" (OM)
2015 Attended the CECA ICOM Annual Conference in Washington DC aus Part of "Connecting the Gems of the Indian Ocean" (US)
2015 Participation in the "Place of Silence" Exhibition at Stal Gallery with a Sound Installation titled "life, being and death" (OM)
2014 Part in making the international Art Installation "Caress the World" at Bait al Zubair (OM)
2014 Participation in 100×100 Exhibition with three digital artworks (OM)
2013 Invited to join "Polimoda Talents", an online Platform for exceptionally talented graduates
2010 Participation in Layali Al Asalah Fashion Competiton receiving Asalah (Originality) and Idbaa (Creativity) Awards (OM)
2008 Designed Gaming Application Concept and developed a prototype for Oman's annual Student Gamer Competition receiving First Prize on a national Level (OM)
2008 Working for Mercedes Benz Oman (OM)