Cooperation project with STAL Gallery and German-Omani Society: Rawan AlMahrouqi and Riham Noor are guests in LIA
For the third time we could host artists, who are supported by the STAL Gallery (Muscat, Sultanate of Oman) and the German-Omani Society (Berlin/Leipzig). The STAL Gallery supports young emerging artists of the country and, as the only institution of its kind, regularly offers opportunities for exhibitions and art education in the capital of Oman.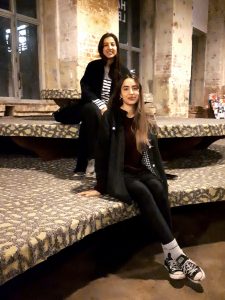 Riham Noor and Rawan AlMahrouqi
Thanks to the intensified collaboration between STAL Gallery and the German-Omani Society, two artists came to Leipzig in 2019: Riham Noor and Rawan AlMahrouqi. Riham started her two-month residency in LIA in October. She is a conceptual artist who most recently worked with installations. She has also conducted many creative workshops with Syrian refugees in various European countries. In Leipzig, however, she focussed on her original medium painting, which she studied in Paris, and created a series of abstract paintings that deal with the subject of balance. Rawan is a multidisciplinary artist and founder of the art school Makan Studios in Muscat. In continuity to one of her recent projects, in Leipzig  she worked on large-scale illustrations that explore the social role and identities of women in Oman and are mooting and questioning existing traditions. During her one-month stay in November, she wanted to gather as much inspiration as possible and to get in contact with other artists.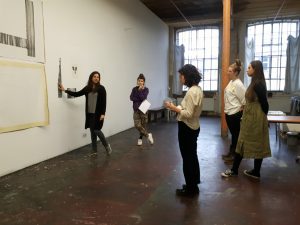 Start and Development of the Cooperation
The cooperation with the STAL Gallery in Muscat, Sultanate of Oman, began in 2016, on the recommendation of the Goethe-Institut of the Gulf region, with the artist Raiya Al Rawahi and was continued in 2018 with Abdulrahim AlKendi. In addition to the exchange of artists, the gallery promotes above all the production, appreciation and commitment of the visual arts in all media in Muscat and the region. The STAL Gallery also runs its own artists residency for national and international artists in Muscat, has a library and organizes various types of workshops. Riham Noor and Rawan AlMahrouqi have been part of the gallery since 2015 and of a growing circle of artists supported by the gallery. The exchange with Leipzig should give selected artists the opportunity to get in contact with other international artists, to develop their own art project and to learn more about German culture and the city of Leipzig.
We especially thank the head of the STAL Gallery, Hassan Meer, for his commitment and cooperation and look forward to having further artists from Oman with us in the next year.
Many thanks also to Dr. Wolfgang Zimmermann, President of the German-Omani Society, for his support of the artists and for facilitating the partnership between LIA and the German-Omani Society. The non-governmental organization has the task of strengthening the contact between the citizens and actors of both countries in different fields, including culture.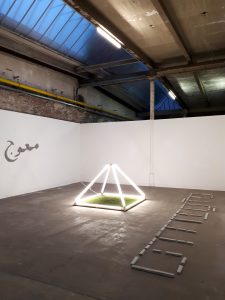 In Cooperation with