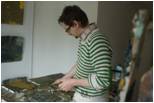 was born in Sydney, Australia in 1976. He is a student of the National Art School, Sydney where he received his Bachelor of Fine Arts majoring in Painting. He is now based in Paris and exhibits in Europe and Australia.
He has been the recipient of numerous awards including The Marten Bequest Travelling Scholarship for Painting, The Elioth Gruner Prize for Landscape Painting from The Art Gallery of NSW,and also The Storrier /Onslow Paris Studio Award.
He has participated in many artist in residency programmes including the Vermont Studio Centre, the Cite Internationale Des Arts and this year the Leipzig International Art Programme.
During 2010, Anthony exhibited in London with the COMODAA gallery, showcasing contemporary Australian art. This is an excerpt from the catalogue essay by the Australian art critic Ashley Crawford
"White has brought together a body of work that reveals a passion for colour, form and movement rarely seen in a painter his age. The results are not unlike slices of the world uncovered by an archaeologist. He seems to absorb and then exhale the weight of the earth, both natural and man-made. The sense of movement in the works reflects his own restless energy as he travels the world, capturing slices of the environment in which he finds himself."
Anthony's work is held in public and private collections in the USA, Japan Europe and Australia
Anthony White is represented by Iain Dawson Gallery, Sydney and COMODAA Gallery, London.