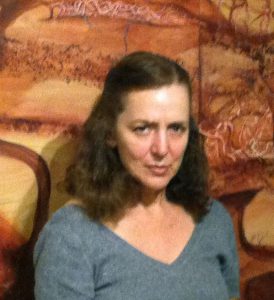 born in Israel and is now living and working in San Francisco. She has a PhD in chemistry and was working as a scientist until 1999. She received her MFA from the San Francisco Art Institute in 2008.

Selected Exhibitions
2012 IcTus gallery San Francisco; Jaffa Mangoes, a collaborative exhibition with Zeina Barakeh.
The Pear Avenue Theater, Mountain View; stage design project:
Bach in Leipzig by Itamar Moses.
2011 National Women's Caucus Art (WCA),solo featured artist of the month for August 2011.
Sonoma Valley Art Museum; Re bound – Contemporary artist's books from the San
Francisco Bay Area" curated by Simon Blattner.
The Pear Avenue Theater Mountain View, CA. Stage design for
The Connecticut Yankee in King Arthur Court by Mark Twain.
BBVA, Colombia; Nuevos Nombres 2011 – Video projection: Conversations (Bogotá) collaboration project with Camila Echverria, curator: Carlos Betancourt.
Sandra Lee Gallery San Francisco, Winter show.
2010 Zero One Biennale, San Jose, CA; Art Ark Gallery; Build Your Own World;
Frey Norris Gallery, San Francisco, Park Project.
Drawing Center, New York ; Viewing Program.
Union Square, San Francisco, Out-door sculpture commission: San Francisco General Hospital Foundation Commission. Auctioned February 2010.
2009 Kunsthaus Tacheles Berlin, Germany; Personally Political, group show.
SOMARTS, San Francisco, Invisible Homes, curator: Justin Hoover.
ARTBO International Art Fair, Centro Colombo Americano Bogotá, Colombia .
2008 Cooper Union, New York City. Cooper Union Artists Residency Show.
R. B Stevenson Gallery, La Jolla; curated by Frances McCormack.
Triton Museum, Santa Clara California painters; CA.
2007 SFMOMA Artists Gallery, San Francisco Museum of Modern Art, CA; The Book of Hours, Solo show.
2005 Arion Press, San Francisco; Original Artists Books.
2004 New Langton Gallery, San Francisco; Synchin – a group show.
Global Factory, Santa Clara, CA. Women; Solo show.
Gallery representation: Sandra Lee Gallery in San Francisco.
Website
www.michalgavish.com