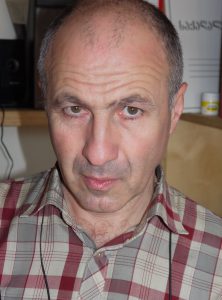 was born 1960 in Tbilisi, Republic of Georgia. In 1982 he graduated from Tbilisi State University. 1990-1994 he taught theory of photography at the Tbilisi State University. Since 1988 he has been working for Georgian newspapers and magazines as a photographer. In 2000 he co-founded the Caucasian Center for Cultural Development and in 2007 the Tbilisi Photographer House. In 2007 he was chief editor of FOTO Amarta magazine.
Solo Shows (selection)
1989 "dom molodioji"Moscow,Russia, Artist 's Central House,Moscow,Russia.
1990 Goethe Institute, Freiburg,Germany.
1997 Joyce Goldstein Gallery, New York,USA. 1997, Freiburg, Germany "Gan marte bani", Filmfestival Cottbus, Germany, Ifa     Gallery,Berlin,Germany, Apex gallery", New York, USA, "Mesiac Fotografii"
Bratislava,Slovakia, "Filme aus Georgien" Vienna, Austria
2002 "New art" Gallery, Tbilisi, Georgia;Out of Focus', Tabla, Kunstverein Perron, Vienna
2003 'Transmission', Gallery Priestor for Contemporary Arts, Bratislava; 'Appendix II', international art project, State Museum of Tbilisi History 'Karvasla';'7+7 More Transparent', Lenin Museum, Baku Azerbaijan
2005 Beyond Stereotypes', Art Caucasus 2005
2006 'Transfusion', Kunsthalle Palazzo, Basel "Atmosphere 41 degree", National Center for Contemporary Arts, Moscow, Festival Est-Ouest, France
2007 'Masks' personal , Ukrainian House, Ukraine; I Thessalonica Biennale
Group Shows (selection)
2001 Karvasla,Tbilisi; UK,Bristol,London
2003 Basel, Switzerland, "Die Kraft der Stille"
2006 Vienna, Austria "Mond photographia"
2008 Nantes, muse des beaux-art de Nantes. "voyage a Tbilisi"; Tbilisi Gallery "arsi" person.
Presentation; Tbilisi, "artisterium", karvasla
2009 Amsterdam, cobra museum, "born in Georgia"